A freelance 3D Artist has an average median income of $30,000 making it a desirable career choice for many aspiring professionals. But not every Freelancer can easily earn Architectural Visualization Jobs because they are not so good at advertising and finding clients, then you can rely on a number of websites for freelancers around the world
Here are some Flatforms from the developer as a middleman connecting you to your clients with which you can easily find work
Fiverr
Platform with the highest number of Architectural Visualization Jobs
N2Q rate: 4.7
What's good at Fiverr for 3D Artirst:
It is currently one of the world's largest marketplaces for digital services, with a database of over 3 million gigs. If you have good 3D Visualization skills and are ready to work, it's easy to become a Fiverr seller and earn money.

 Fiverr

is just have about any client you need of for your Archvis.

It has grown tremendously over the years and it makes it really easy for any startup, home studio or Freelancer to get Architectural Visualization Jobs done with a steady stream of work.

 While the huge pool of 3D Artist can make you feel terribly competitive, the growing customer base will make this less important (more on that later).

And the rating system helps you stand out if you do your job well.
What's bad at Fiverr for 3D Artirst:
When Fiverr deletes your account, they will never explain the situation to you in detail and will never provide evidence to back up their decision?

There are a lot of buyers who will try to scam you because they know that Fiverr is always on their side. And

when you report a buyer, no action will be taken against them. In the event of a disagreement with the buyer, if you are forced to cancel the project, your record will be considered as a canceled order displayed.

B

uyers

on Fiverr can cancel a project even if the entire checkout process is complete in six months! Buyers will get a refund, and you will face penalties!

After placing an order, the buyer has the option to change his specifications to get more work done for less money. If the buyer decides to cancel the project after it has been delivered, he will receive your work for free!
Tips to stand out on Fiverr
Learn the basics

Still a little unsure about how to get started? Get clarity on what your Archvis Gig is, how and where you'll be working, and other insights with a little help from this article on 

tips for creating your Gig 

.

More performance videos

Our research shows that adding a brief, high-quality video to your Gig can increase your order volume by more than 200%. For a new freelancer 3D Artist looking to make their first sale, this is a great place to start.

Connect on the forum

Dive into the Architectural visualization jobs forum and get to know the community there. It's a great resource for tips as well as a support place to connect with other sellers.

Make your profile stand out

In a marketplace as large as Fiverr, sellers benefit from creating a consistent and memorable personal brand.
Are you wondering how much is the price for your Architectural Visualization project?
Let's check our our automated calculator 
Upwork
The Platform with the Highest Price Architectural Visualization Jobs
N2Q rate: 3
What's good at Upwork for 3D Artirst:
The Upwork website is probably the first place you want to find Architectural Visualization Jobs. The top choice of many, this platform attracts both the best and worst freelancers in the world across all professions. According to the Upwork wiki, the platform has over 5 million registered customer accounts and over 12 million active freelancers. Crazy!

Any customer you want: Architect, 3D Partner, Real Estate Investor – Freelancers of all shapes and sizes and professions. Some of the reviews come from people who have built their entire team with people they've found on the platform. This makes Upwork legit for those who want everything in one package.

As we pointed out earlier, the bidding system allows 3D Visualizationzer freelancers to compete for orders through the Upwork recommendations they send to clients whose projects they are interested in. Since there is no limit regarding hourly rates, freelancers decide which bids to set their own.

Some of them decide to compete through shock absorbers that often reduce the price range seen on the platform. Unfortunately, it is precisely this that makes it unreasonable to take jobs from Upwork for more skilled freelancers.
What's bad about Upwork:
Upwork is a highly competitive marketplace! According to available statistics, the number of 3D Artist on the website exceeds the number of active clients by at least 3 times. As we all know, competition is a good thing – it promotes both higher quality and lower prices for buyers. However, as we have seen over the years, the clash between freelancers from the United States and those from countries with a much lower cost of living, has created a situation with two major problems: insurmountable barriers to entry for new freelancers and 

dumping

 .

The latter problem has become a real problem for freelance bidding platforms like Upwork: freelancers with more specialized skills have left the site because they don't want to compete with contractors. The less competent won the project by bidding much lower and that reduced the quality and success rate of the Upwork work in general.
Tips to stand out on Upwork
Take professional headshots. 

We all know it's an important asset to any career, but when people are looking to hire freelancers on Upwork, the credibility of your resume cannot be underestimated.

Choose a career title

that best describes all of your expertise and skills. Show off all the types of projects you're good at, all the technologies you're familiar with, and all the skills you have.

Write a great pitch!

Sell your services and experiences, don't be afraid to stand out or be funny. You can even feature a video on your profile.

Show off your best work and certifications.

While the Upwork skills tests are no longer available, you can still use external certifications you've earned from Google, Hubspot, and other industry giants.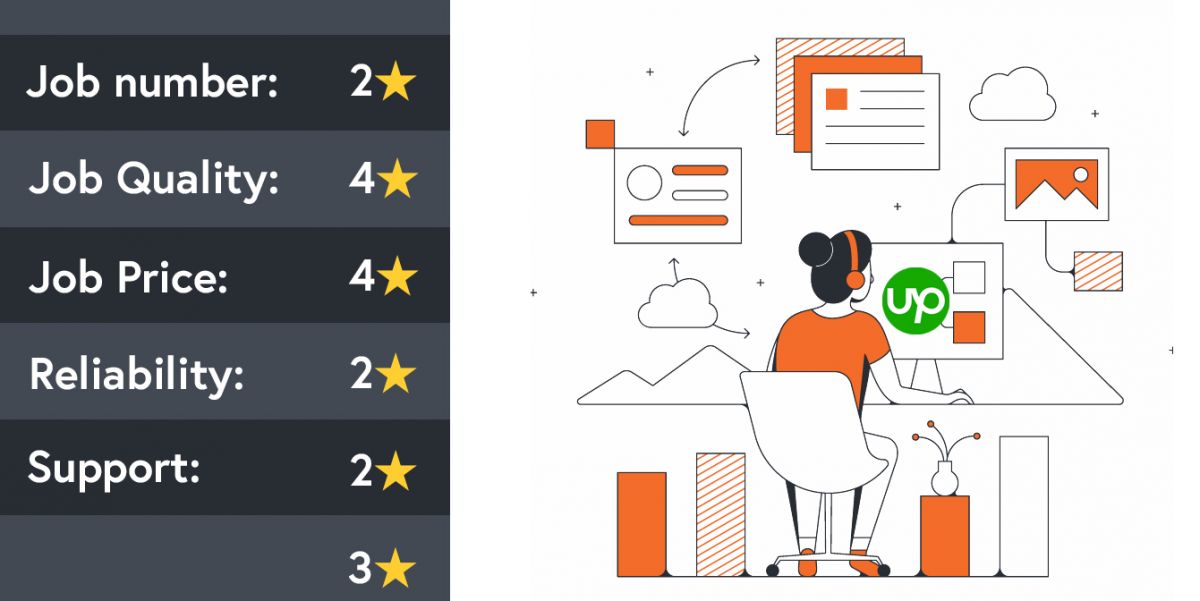 PeoplePerHour
N2Q Rate: 3
What's good at Peopleperhour:
Choose from freelancers around the world, as well as in your City

Manage one account for both buying and selling services

Secured payment through Escrow system and PeoplePerHour Wallet

PeoplePerHour's rate of cheap and always-available contracts is less than that of sites like 

Fiverr

 and major platforms like 

Guru

 or 

UpWork

. Before renting through this site you should consider if this is the right platform for you. One thing that really makes PeoplePerHour stand out is that it's different from other similar sites that forbid any direct contact between recruiters and freelancers, PeoplePerHour encourages personal contact

The main feature of PeoplePerHour is the option to search for local freelancers. The integration of social networks makes it easier to avoid fraud and scams. However, it complicates the lives of those who work under nicknames and pseudonyms. You may also want to think twice before you integrate your Facebook account with embarrassing pictures into your user profile. So think carefully about this.
What's bad about Peopleperhour:
The interface Archvis makes it difficult to use
While the service is free at first, PeoplePerHour tends to charge high fees at the start of projects. The commission per transaction is 3.5% – which seems reasonable, although depending on the account opening date, the fee can be up to 5% (excluding VAT). In any case, the fee applies only after you have invested or earned your first £175 (US$280) in the month. PeoplePerHour still shows all fees, charges and prices in pounds. Not only does this inconvenience both freelancers and employers, it exposes both parties to additional bank fees for currency exchange.

The platform used to be pretty good, the work was stable, and the payments were pretty quick. 

They used to care about their sellers. Prices escalate, support is now non-existent, and all the work is low quality, low paying and thus attracting low-quality freelancers who are underpaid. Now payments take weeks to get out of PPH and they just don't care about anything or anyone.
Tips for success:
Your freelancer profile is everything
Upload your best work to your portfolio
Add Offers to your freelancer profile
Apply for projects regularly
Guru

N2Q Rate: 4.4

What's good in Guru:
Similar to sites like  Upwork  and  Freelancer  , marketplaces like Guru.com are important to the  gig economy  …but it's an economy that's going through increasing difficulties and multiple platforms. The platform is still trying to perfect it.
If you're looking at Guru.com for Architectural Visualization Jobs, there's no doubt that freelance work is a great way to make money online (or from home in general) and it's one of the ways I can replace work. his job.

You can choose a free

 or 

paid

membership   , with the big difference being the number of "bids" on offer to determine how many jobs you can apply for.

Since Guru.com is an open market, there is no fixed rate. Your salary is determined by your bid, the competition, and how much your employer is willing to pay.

Free members get 10 bids per month with the option to purchase more.

20 bids – $10

40 bids – $20

60 bids – $30

125 bids – $50

250 bids – $100

Unlike your monthly bids that do not carry over to the next month, your purchased bids do not expire.
What's bad about Guru:
Lots of competition and a race to see who is the cheapest.
In addition  to employment fees  for freelancers 3D Artist (ranging from 8.95% to 4.95%), Guru.com adds another 2.5% processing fee to the employer's bill.
Optional costs include skills tests that are added to your resume and can help you land a better job.
Basic Membership – $4.95/skill test

Basic + membership – $2.95/skill test

All other members – Free

Guru Feedback from CLient
Guru.com also has a controversial fee that freelancers can pay to remove negative feedback from their profiles. This is a double-edged sword and has to do with the inaccurate rating system I mentioned below. On the surface it looks good for freelancers… but in reality, it's not so good for high quality freelancers going so far as to stand out from the crowd.
An unfortunate side effect of negative reviews is that people start using the word scam. 

And Guru.com has a lot of negative reviews.

Their current BBB rating

 of F tells a similar story… a rating based on their failure to respond to some complaints.

However, despite the poor ratings and complaints… Guru.com is not a scam. 

They have been around for many years and are a legitimate company run by the famous CEO 

Inderpal Guglani

 .

With complaints about the accuracy of their rating system opening the door to getting ripped off, they may have a point. I'll explain that in more detail below, but is Guru.com itself a scam? No they do not.

Pay is low with freelancers bidding low on each other and too many employers just looking for the cheapest stuff they can find.

Many problems with people not being able to withdraw their money…that's a pretty important one.

Slow response customer service.

The rating system is not as accurate as mentioned earlier, with some scammers even receiving a 5 star rating.
See more: How to convince your clients through the 3D Architectural Visualization Service quickly?
Tips for success:
1. Find the pages/sources your target market goes to and pick one to dominate first
2. Build your unique Sales Persona online to pre-assess potential customers and build credibility .
3. Communicate regularly with your target market and talk about what they care about, not you
4. Connect with people who are also online and talk to your market – cross market.
TOTAL SCORE
By the way,
If you want to learn how to show your best Skill to attract client?
see more : N2Q Studio – Outsourcing 3d Rendering Services