Residential rendering accounts for a large number of projects of the market so far, But most people do not understand its peculiarities which leads to wrong selection of companies that may be strong in other areas or does not suit your needs
1.   Price
How much does 3D Artirst charge for a Resiential rendeing?
According to homeguide.com, 3D Rendering costs an average of $350 to $950 per image for interior and exterior images.

Price for small residential rendering: $300-$400
At N2Q Studio, this price range of projects is managed by experienced 3D artists who can make modifications to 3D files instantly when you need a small modification.
One of the typical categories to apply this price is:
When project budget is the primary concern, the final quality needs to be very good but it doesn't have to be top level
The overall aim of the project is to gain approval from the governing bodies, to plan in a basic style, to pre-sell the property
These services are great for architects, brokers, home builders and real estate marketing agents.
Price for medium residential rendering: $400-$700
Medium scale is the most popular choice for developers, architects, real estate agents and designers working on luxury homes and medium to larger scale rendering projects.
This level of quality and price is the bread and butter of N2Q Studio. We focus on creating great images without blowing your entire marketing budget. The purpose of rendering is for sales, design planning, regulatory approval, or ideation A few hundred dollars isn't much in the big picture:
They can impressive images help you sell faster! They can convince customers or management to move on!
One of the typical categories to apply this price is:
Price for Residential Area rendering: $400-$700
Customers in this category are typically large established corporations where value is essential, but top-level quality is a priority.
  When you are planning to market a high-end development project, the branding and awareness building is huge. A thousand dollars for a $100 million project is just a small sum, especially when these images can be the cause of hundreds of pre-sale or they can be the difference between accepting accept and refuse.
One of the typical categories to apply this price is:
You are a top professional and want to work with top experts.
Spending tens of thousands won't break the budget.
The purpose of rendering is for sales, design planning, regulatory or concept approval but on a large scale
If you are an architect, developer, real estate agent, designer but your project needs to be successful and be the best with big profit
When you're willing to pay to work with the best companies in the industry
2.   Quality
Are you growing slowly?
The architecture industry has been going through an interesting growth period for some time. Slow to adopt advanced technologies, many companies are now looking to present work to clients in 3D as programs develop the work (and at no additional cost!) fifteen years !
Some companies still render manually, but it's time consuming and costly for the client. In addition, with the widespread sharing of work through social networks, the standard for what is expected is getting higher and higher every day.
Even local cities are asking for 3D presentations because they have seen enough of them and witnessed the huge benefits, being able to fully understand what they approve before it is too late while in the past , 2D drawings still leave much to the imagination. (in these cases, the customer has to pay just to get their approval).
In general, most companies now work in 3D with programs like Revit and SketchUp.
But there's a big difference between a model created for the purpose of creating 2D drawings for construction and a model developed for rendering real photos, plus the additional image processing time in Photoshop. That difference in time and effort will cost money.
For most residential customers, pictures like the real thing aren't worth it. They were satisfied enough with the general mass model with the application of the base material.
It's time for a change!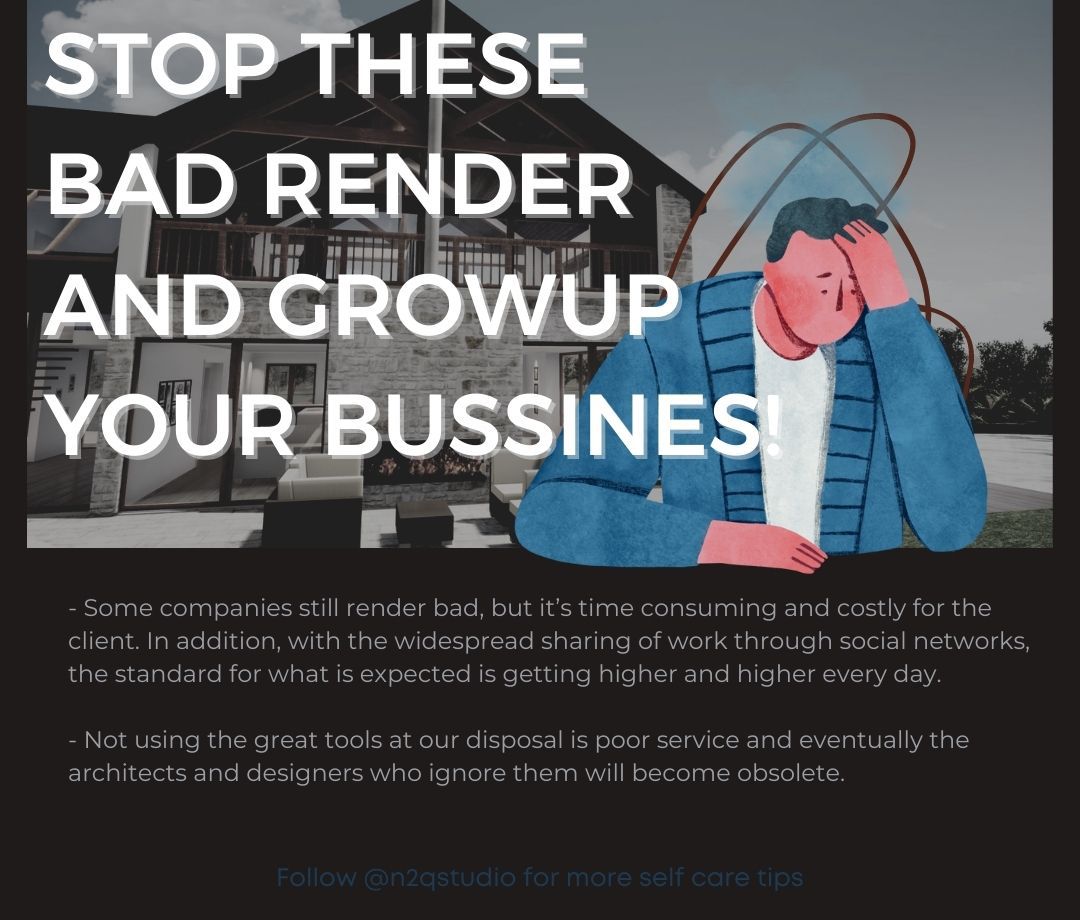 However, for developers, those renderings are gold. They are marketing material that allows them to sell the property before it's built, so they pay the extra cost for an architect to create the images or find a deal to buy a model and outsource it to visual studios. tends to be cheaper.
Here is the same project with the build model and the render model side by side for comparison. In this case, the developer's broker has chosen to show, with that result below.
One such drawing by an architect can cost between $500 and $1500. Interior rendering costs higher, like this (same project):
However, the great thing about our programs now is that we can also achieve a reliable enough context with less work for our residential clients.
I put this project together and created some footage for the client to get her excited about building. It's not super practical and certainly not perfect, but it's good enough for its purpose. It took me an hour or two, it was well worth the smile.
Soon, the expectation will be that these types of images are part of the standard architect's toolbox. Knowing this, we will compensate by building in a time to visualize in our contract.
Most people have difficulty translating 2D drawings into 3D so I think it is imperative that we do our best to communicate these designs to our clients. Even architects benefit from analyzing our work in 3D, which can reveal conflicts that may not have been noticed until construction.
Not using the great tools at our disposal is poor service and eventually the architects and designers who ignore them will become obsolete.
See more: How do you find the best rendering partner for you?
3.   Time
Small residential rendering: 1 View / 1-2 Days
This elegant miniature building took 2 days of work. The duration included post-production time, which helped create an appealing atmosphere of lightness and freedom.
Medium residential rendering: 1 View / 3-7 Days
Such houses require more work and time – the surface is bigger, and therefore, there are more details. Besides, oftentimes the Architect needs multiple Day and Night Views, which require separate work each. And of course, the character of the project requires the right environment – surrounding buildings, opulent vegetation, cars, lots of happy inhabitants and just admiring passers-by.
Residential Area rendering: 1 View / from 10 Days
To create a city, 3D Artist needs to model a whole complex of unique buildings – obviously, the library of models won't do for such a project. Moreover, the complex needs to be as cohesive as it is unique. The buildings should form an ensemble. As you can see, the cafe coloring looks well set against the surrounding houses. Furthermore, the height is chosen perfectly – it doesn't overshadow the buildings around and looks homey.
As you can see, though no one can predict the exact outcome of the project, it is totally possible to influence things by specifying all the details of the task in a Technical Assignment, setting the realistic time and finding an honest and professional 3D Rendering services. ArchiCGI company can guarantee all of the above. We know how to make projects that win over the audience and convince the investors. Just send us the materials of your project through our website, Contact page.
4.   Client experience
To stay ahead, organizations must begin to design their structures and capabilities from the outside in, making sure their business evolves with the needs of their customers. Customer experience architecture doesn't just design from the outside, it also brings you closer to your customers and their needs, which ultimately allows for the co-creation of great experiences.
 While it's possible to quickly approve a company based on their ability to deliver on your design requirements, you shouldn't be fooled into just checking out the projects they give you right away. ie.
Determine the company's experience by evaluating their past and current projects. If you can tell the direction of a 3D rendering company, you can certainly tell if trusting them with your precious project is worth it.
Information is vital in finding the 3D architectural rendering services that best suit your needs. Information is the foundation of your search and the results you will get after choosing your favorite 3D rendering company. Evaluate companies based on your interactions with customer care, company secretaries, designers trying to understand your brief, and sales managers, if you have the opportunity to speak with person.
No productive business relationship can be established when a company fails to learn how to communicate effectively with its customers. Test and evaluate their responsiveness to phone calls, emails, and social media platforms. You can easily conclude who is ready for business by giving equal attention to the people you notice.
See more: Top 5 reasons why you should hire 3D Architectural Rendering in Vietnam