We've set up lists to let you choose the virtual Reality architecture service that can be adjusted to meet your company.
There are plenty of choices for you and it sounds very obvious about it, But there will be many who do not know about the benefits of VR architectural imaging technology in real estate.
1/ Instant sense of ownership in VR Architectural Visualization
3D simulation works, helps architect shape the design, compare the real rate, visualize the interaction of the project to space time. The owner can preview the design right on the look. The home buyer sees the space of his future anywhere. Promoting customers deciding to buy or sign a lease contract is the most difficult task for most real estate agents. As the popular VR technology tours become useful, the experience is like a whole new world, experience the same people being transported, giving the real feeling of living in that environment. Visualize a lot of your most beautiful exhibits when viewed for the first time so that we give an impression of how to look for you.
VR is not just a walk. Interactions include changes to walls, floors, fabrics, counters, and even patterns and furniture layouts. Provide your prospect with rewarding practical experience on building a house of their own.
Ultimately, with the help of virtual reality, designers are more free to experiment and push boundaries. This will certainly help the industry as a whole continue to progress. Virtual reality is offering a new way to create, interact, and will without a doubt, continue to shape the way business is conducted.
2/ Has a Time-saving VR Architectural
Time can be a big benefit for both parties by visualizing the VR architecture, especially your company side helps you quickly finish a project between your client and broker. When VR appears, there's no need to move from one place to another. Instead, customers only need to sit in one place and then wear a VR headset and enjoy three-dimensional tours, immerse yourself and enjoy the lively atmosphere.

3/ Interior and exterior are shown in VR
To entice buyers to buy goods, you must first give them the idea of how your product really looks and they need to see as many angles as possible. With VR, customers see your products from all angles without touching the product. Furthermore, it allows customers to view active products. Buyers can thoroughly inspect interior and exterior products before purchasing it. VR allows customers to see what assets look like in a three-dimensional context that they don't need to actually be there. Apply that function to your showroom and you will bring your home sales experience into a great journey.

4/ Save money, improve VR quality
Virtual reality helps you save a lot of money by using the power of 360° videos and computer graphics, showing homes, scale models, and printed collateral – all of which need to be redesigned and remade when concepts change. Today, making a guided video tour around a property requires just a panoramic camera and basic rendering.
Essentially, virtual reality increases the overall quality of the design experience, as well as, interactions with clients. Ultimately, virtual reality increases productivity as meetings are more valuable when individuals can get a better understanding of shared ideas due to an interactive spatial experience. With that said, quicker decision making is enabled when there is less room for misinterpretation. Additionally, virtual reality helps to improve the client's experience as clients are able to get a complete tour of buildings before its built. This helps to gain the confidence of clients, making it easier to solidify deals.

5/ The details of  Company N2Q Architectural VR image service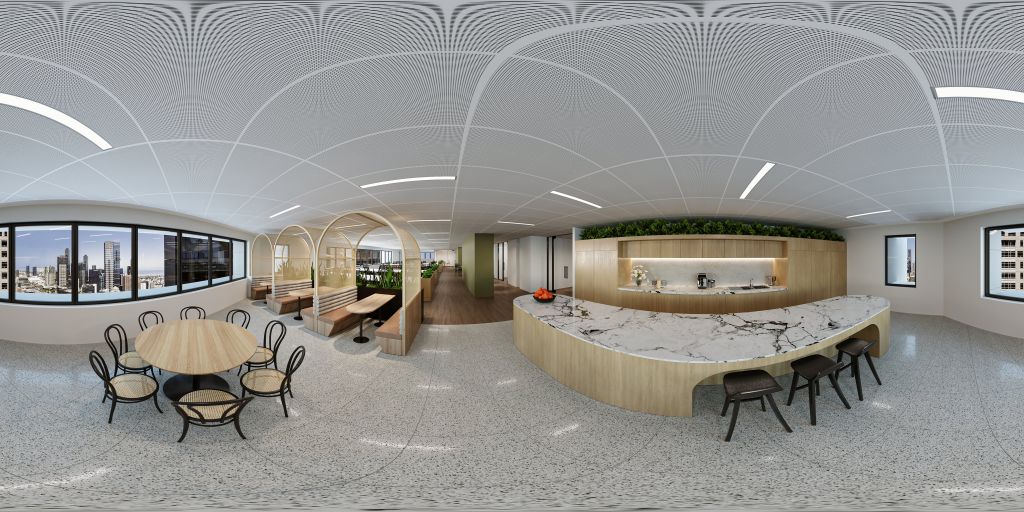 On capacity architectural visualization VR
The architectural visualization VR artists always show their creative skills in each product. With extensive experience, professional working style, creative ideas and passion for the profession, N2Q will bring you projects that are suitable for finance while ensuring aesthetics, delivered on time, bringing satisfaction with every detail of products to partners.
Credibility and accountability
N2Q Studio is a leading prestigious company in architectural visualization service today. N2Q has participated in hundreds of projects from small to large, from the Americas to Europe and Asia. Projects of architectural Enterprises and designers around the country are meticulously made to detail the drawings, to have a quality of 100% to produce the output perfectly. We always control the quality of each product to the partner in a beautiful aesthetic way, To the architectural enterprises and designers brought to customers about satisfaction. Our responsibility, I always finish a product that the partner requires to edit or wants to add anything on the drawing, we will reply and do our best to the end.
Consulting services and customer care
Honesty, friendliness and enthusiasm are the motto of N2Q Studio. We are always ready to listen to difficulties and information required by customers, offering the optimal VR architectural visualization solution to help you feel secure about financial risks.
It's at the best advantage of the benefits of VR software. If you are looking for 3D architectural imaging services, we are exactly the right choice for you. We N2Q Studio is a professional company that produces lifelike image services. Welcome to contact us for any questions.
CONTACT INFO
Address: 155 LeHuan, Hue, Viet Nam
Gmail:         N2QStudio@gmail.com
Whatapps: +84 93574 7519