3ds max is a powerful 3D modelling and rendering software used by architects, engineers, and artists. However, it can be expensive to purchase outright. If you're looking for ways to save money on 3ds max, one option is to use render plugins. Render plugins are third-party software that can add additional features and functionality to 3ds max. In some cases, they can even help improve the quality of your renders. In this blog post, we'll take a look at three of the best 3ds max render plugins currently available.
V-Ray
There are many different render plugins available for 3ds Max, but one of the most popular is V-Ray. V-Ray is a high-end 3D rendering engine that produces photo-realistic images. It's used by artists and designers to create stunning visual effects and animations.
V-Ray is known for its ability to produce realistic lighting and shadows. It also has a wide range of other features, including support for Global Illumination, Caustics, and Depth of Field. Plus, it's easy to use and comes with a comprehensive set of tutorials.
If you're looking for a powerful render plugin that can create beautiful images, then V-Ray is definitely worth considering.
Corona Renderer
Corona Renderer is a high-performance (un)biased photorealistic renderer, available for Autodesk 3ds Max and other platforms. Corona aims to be as physically based and user friendly as possible.
Corona has two different versions:
The free Corona Core renderer which is included in every new release of 3ds Max. This version is fully functional with no limitations, but lacks some of the advanced features found in the paid Corona Renderer plugin.

The paid Corona Renderer plugin, which adds support for more advanced features such as photometric lights, area lights, caustics, and more. It also removes the watermark that is present in the free Corona Core renderer.
Octane Render
Octane Render is a powerful, unbiased 3D renderer that offers photorealistic results and fast performance on bothGPU and CPU. It is one of the most popular 3D rendering engines available, and has been used in films and video games. Octane Render can be used with any 3D modeling software, and is compatible with all major operating systems.
Maxwell Render
Maxwell Render is a 3D rendering software for architects and designers. It is based on the physics of light and allows users to create realistic images. Maxwell Render uses GPUs to speed up rendering times and produce high-quality images.
Arnold Renderer
Arnold Renderer is a high-end photorealistic renderer used by visual effects artists and animators. It is based on physically correct simulations of light and materials, and produces very realistic images.
Arnold is fast and efficient, and can be used on a wide range of graphics hardware. It supports many popular 3D applications, such as 3ds Max, Maya, Cinema 4D, and Houdini.
Arnold has a wide range of features that make it suitable for use in production environments. These include:
Advanced ray tracing algorithms

Physically based shading and lighting models

Powerful volume rendering capabilities

Deep integration with 3D applications
It is also easy to use, with a simple yet powerful interface. Arnold's intuitive controls make it easy to get great results quickly.
Arnold is a commercial renderer, and is available for Windows, Linux, and Mac OS X.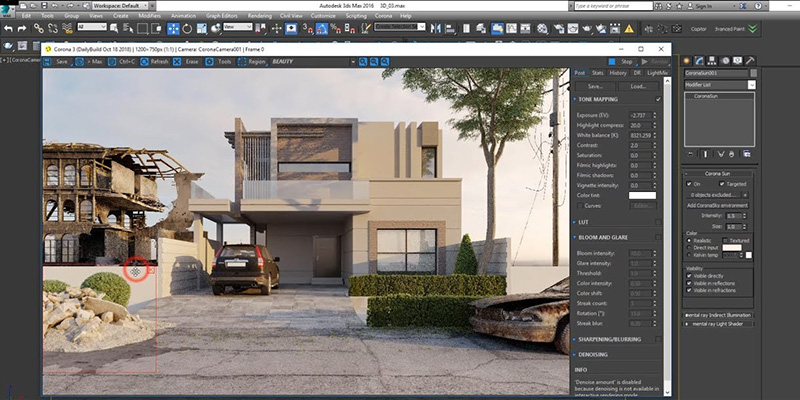 Comparison of the different plugins
There are several different plugins available for 3ds Max, each with its own strengths and weaknesses. In this section, we'll compare the different plugins to help you decide which one is right for you.
The first plugin we'll look at is V-Ray. V-Ray is a popular choice for 3ds Max users, and for good reason. It's a powerful renderer that produces high quality results. However, it can be tricky to learn and use, and it's not always compatible with other software.
Next, we have Mental Ray. Mental Ray is another popular renderer, and it produces excellent results. It's also relatively easy to use, making it a good choice for beginners. However, it can be slow to render complex scenes.
Finally, we have Scanline. Scanline is a simple renderer that's easy to use and fast to render. However, it doesn't produce results that are as high quality as V-Ray or Mental Ray.
So which plugin is right for you? It depends on your needs and preferences. If you're looking for a powerful renderer with high quality results, go with V-Ray or Mental Ray. If you need a quick and easy solution, go with Scanline.
Conclusion
There are a ton of different 3ds max render plugins available, and it can be tough to know which ones are worth your time. We hope that our roundup has helped you narrow down the field and find the perfect plugin for your needs. Whether you're looking for something simple or complex, there's sure to be a plugin on this list that will suit your needs. Thanks for reading!