In the world of hospitality, first impressions are everything. That's why hotel owners and designers put so much time and effort into making sure each room looks and feels just right. But what if you could see the end result before ever lifting a paintbrush or moving a piece of furniture? That's where hotel room rendering comes in.
What is Hotel Room Rendering?
Hotel room rendering is the process of creating a three-dimensional (3D) model of a hotel room design. With the help of specialized software, designers can create a virtual representation of the room and visualize the space from different angles, lighting conditions, and furniture arrangements.
The Benefits of Hotel Room Rendering
There are many benefits to using hotel room rendering, including:
1. Speed and Efficiency
With rendering, you can see a complete, fully furnished room in just a few hours. This saves time compared to traditional design methods, where multiple rounds of revisions and mockups can take days or even weeks to complete.
2. Cost Savings
Rendering also allows you to identify potential issues early on in the design process, reducing the risk of costly mistakes and the need for last-minute changes. It can also help you make informed decisions about the materials you'll use, so you can stay within your budget.
3. Improved Communication
Rendering makes it easier to communicate design ideas to stakeholders, including hotel owners, investors, and contractors. With a clear, visual representation of the final product, everyone can be on the same page and understand the design vision.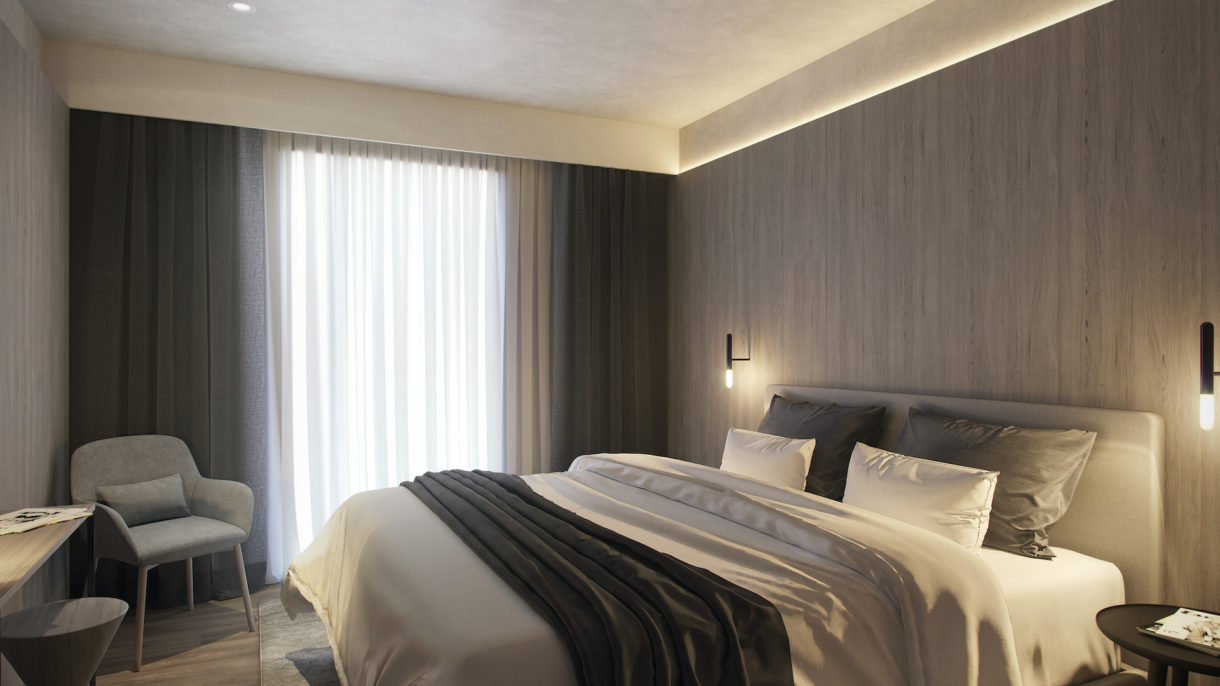 4. Increased Creativity
Rendering technology provides designers with greater freedom to experiment with different materials, colors, and furniture arrangements. They can even test out lighting scenarios and see how the room will look at different times of day.
How Hotel Room Rendering Works?
The process of creating a hotel room rendering typically starts with a 2D floor plan or architectural drawing of the space. Designers then add layers of information, such as wall textures, furniture, lighting, and accessories, to create a 3D model of the room.
Next, the designer will set up the camera and lighting for the scene and choose the view that best showcases the room. Finally, the software will generate a high-resolution image of the room, which can be used for presentations, marketing materials, and construction documents.
Choosing the Right Software for Hotel Room Rendering
There are many software options available for hotel room rendering, ranging from simple, entry-level programs to more advanced, industry-specific tools. When choosing a software, consider the following factors:
1. User-Friendliness
Look for a program that is easy to use and intuitive, so you can focus on creating the design, rather than learning how to use the software.
2. Output Quality
Ensure that the software you choose can produce high-quality images and animations, so your designs will look professional and polished.
3. Cost
Consider your budget and choose a software that offers the features you need at a price that works for you.
4. Technical Support
Make sure the software you choose comes with good technical support and a robust online community, so you can get help if you run into any issues or have questions.
Bring Your Hotel Room Designs to Life with Rendering
Hotel room rendering is a powerful tool for hotel owners and designers, allowing them to see their designs come to life before ever breaking ground. With its many benefits, including speed, cost savings, improved communication, and increased creativity, it's no wonder that more and more hotel professionals are turning to rendering to bring their visions to reality. So why not give it a try and bring your dream hotel room to life today?
The Future of Hotel Room Rendering
As technology continues to advance, the possibilities for hotel room rendering are endless. In the future, we can expect to see even more realistic and immersive virtual experiences, allowing designers to fully immerse themselves in their designs and make informed decisions.
Additionally, advancements in augmented reality (AR) and virtual reality (VR) will allow hotel guests to preview their rooms before ever stepping foot inside. They'll be able to see the room from different angles, change the lighting and furniture arrangements, and get a sense of the overall ambiance and atmosphere.
How Virtual Walkthroughs with 3D Rendering Can Increase Sales?
1. Improved Visualization
A virtual walkthrough with 3D rendering allows potential buyers to see the property in great detail and get a sense of the layout and flow of the space. This helps them to better visualize themselves living in the property, leading to increased interest and a higher likelihood of making an offer.
2. Increased Engagement
Virtual walkthroughs with 3D rendering provide a unique and engaging experience that sets them apart from traditional property tours. This increased engagement can help to build excitement and interest in the property, ultimately leading to increased sales.
3. Reduced Costs and Improved Efficiency
Virtual walkthroughs with 3D rendering are much more cost-effective than traditional property tours, as they do not require the physical presence of the potential buyer or real estate agent. This improved efficiency can help to increase sales by making the process of viewing and purchasing a property more convenient.
4. Enhanced Marketing Strategy
A virtual walkthrough with 3D rendering can be a valuable addition to a comprehensive marketing strategy, providing potential buyers with an interactive and memorable experience of the property. This increased exposure can help to generate interest and ultimately lead to increased sales.
Making the Most of Virtual Walkthroughs with 3D Rendering
To get the most out of a virtual walkthrough with 3D rendering, it's important to work with a team of experienced professionals. This includes real estate agents, architects, and 3D artists who understand the intricacies of the real estate market and have the skills and expertise to create high-quality, accurate virtual walkthroughs.
Additionally, it's important to choose the right software for your needs. Look for a program that is user-friendly, produces high-quality outputs, fits your budget, and comes with good technical support.
Conclusion
In today's highly competitive hospitality market, it's more important than ever to make a strong first impression. With hotel room rendering, you can see your designs come to life before ever breaking ground, ensuring that every detail is just right. Whether you're an experienced designer or just starting out, hotel room rendering is a powerful tool that can help you bring your visions to reality.