3D rendering is the creation of computer-generated images (CGI) from a 3D model. This can be done for still images or for animations. It is used in multiple industries, including architecture, interior design, and product design. When it comes to 3D rendering, there are two main types: real-time and offline. Real-time renderings are used for interactive applications such as video games and virtual reality. Offline renderings are used for movies, television, and static images. 3D rendering is a powerful tool that can help you visualize your designs. In this blog post, we will introduce you to the basics of 3D rendering and how it can be used in your project.
What is 3d exterior rendering?
3D exterior rendering is the creation of three-dimensional images of a building's external appearance. These images can be used for a number of purposes, such as marketing material or to aid in the planning and design process.
There are a number of different techniques that can be used to create 3D exterior renderings, each with its own advantages and disadvantages. The most common methods are photorealistic rendering, which produces incredibly lifelike images; non-photorealistic rendering, which can be used to create more stylized images; and parametric modeling, which allows for a greater degree of customization.
No matter which method is used, the goal of 3D exterior rendering is to give viewers a realistic representation of what the finished building will look like. This can be an invaluable tool for architects, developers, and marketing teams as they work to create or sell a new project.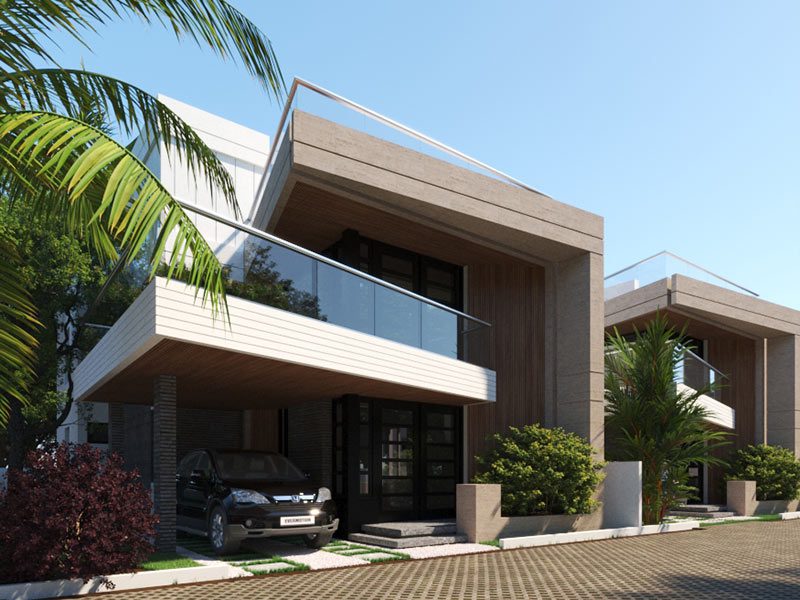 The benefits of 3d exterior rendering
There are plenty of benefits that come with 3D exterior rendering, both for the customer and the company. It is a great way to see a project through from start to finish, and it can help avoid any potential problems that might occur along the way. Additionally, 3D exterior rendering can be used as a marketing tool to attract attention and generate interest in a project.
For customers, 3D exterior rendering provides an immersive experience that allows them to get a true sense of what the finished product will look like. This can be extremely helpful in making decisions about materials, finishes, and other details. Additionally, it can help to visualize how the space will flow and function.
For companies, 3D exterior rendering can save time and money by avoiding potential mistakes and redesigns. Additionally, it is a great marketing tool that can generate interest and excitement for a project.
What to consider when choosing a 3d exterior rendering company?
When choosing a 3d exterior rendering company, there are several things to keep in mind. First and foremost, you want to make sure that the company has experience with the type of project you're working on. If you're looking for someone to render a high-rise building, for example, you'll want to make sure the company has experience with that type of project. Secondly, you want to take a look at the company's portfolio and see if their style matches your vision for the project. Finally, you want to get an idea of their pricing and turnaround time so that you can be sure they fit within your budget and timeline.
Top 3d exterior rendering companies
There are many great 3d exterior rendering companies to choose from, but it can be tough to decide which one is right for your project. Here are three of the top companies that offer high-quality services at an affordable price:
Bluebeam Revu: Bluebeam Revu is a powerful 3D rendering software that offers a wide range of features and tools to help you create stunning visuals. It's easy to use and has a wide range of customization options, making it a great choice for both small and large projects.

SketchUp: SketchUp is another excellent 3D rendering software with a user-friendly interface and plenty of features to help you create amazing visuals. It's great for both simple and complex projects, and you can even use it to create animations and walkthroughs.

Autodesk 3ds Max: Autodesk 3ds Max is a professional-grade 3D rendering software that offers an extensive set of features and tools. It's ideal for large projects that require high-quality visuals, but it can also be used for smaller projects.
How to get started with 3d exterior rendering?
If you're new to 3D exterior rendering, the process can seem daunting. But with a little guidance, you can create amazing renderings that will impress your clients and help you win more business. Here's how to get started:
Choose the right software. There are many different software programs available for 3D rendering, and it's important to choose one that's right for your needs. If you're just getting started, we recommend using SketchUp Pro. It's easy to learn and use, and it produces high-quality results.

Find some good tutorials. Once you've chosen your software, it's time to start learning how to use it. Luckily, there are tons of great tutorials available online. Just do a search for "SketchUp Pro tutorial" or "3D rendering tutorial" and you'll find plenty of helpful resources.

Experiment with different techniques. As you start creating renderings, experiment with different lighting setups, camera angles, and materials to see what works best for each project. The more you experiment, the better your results will be.

Get feedback from others. Once you've created a few renderings, solicit feedback from other designers, clients, or anyone else who might be able to give you some constructive criticism. This will help you improve your skills and produce even better results in the future
Conclusion
3D exterior rendering is a powerful tool that can help you create stunning images of your home or business. By understanding the basics of 3D rendering, you can create beautiful images that will impress your clients and help you sell your properties. With a little practice, anyone can create amazing 3D renderings. So what are you waiting for? Get started today and see what you can create!