The Best Architectural Visualization Company Is Here! 
What is the best architectural visualization company? 3D architectural visualization plays a significant role in creating magnificent architectural products. The 3D technology lets you have the initial and detailed outlooks of your residences, complexes, and other spaces. 
More and more companies are working on this service and guarantee you excellent architectural rendering products. Therefore, you will stand a good chance of picking an appropriate agency to visualize your place. 
Why Is 3D Architectural Visualization Important?
3D rendering visualization may sound unfamiliar to most people, but it is a noteworthy term for people working in architecture. 
Long ago, people created majestic projects with drafts drawn by hand. It is the most elementary form of architectural visualization. The advance in technology has given birth to 3D rendering tools, which can make architectural drafts more visible, realistic, and detailed than ever before. 
The visualization designers can bring the concepts in your head to life via high-resolution images and videos. Therefore, you and architects can catch each other's ideas more precisely before deciding to build your residences, and then they can construct your house as you wish. 
Moreover, Virtual Reality technology allows you to go around every corner of your dream house even before the contractors build it. Besides architecture, 3D rendering technology is beneficial for medical purposes, commercial, product-making, infrastructure projects, etc.
The Best Architectural Visualization Company
Each one in the list of top 10 best architectural visualization companies can satisfy your needs. Let's start with the first place:
#1. N2Q Studio
In Vietnam, N2Q Studio is a young and well-known team in the architectural visualization service. Although the firm was recently established, it has covered more than 600 outstanding projects at reasonable prices. 
The company emphasizes generating 3D renderings for home exteriors, residential buildings, commercial mix use exterior, aerial birds' eye view exteriors, residential interior design, and commercial hotel interiors. Both domestic and international clients have placed their trust in N2Q Studio for the visualization of their homes and hotels.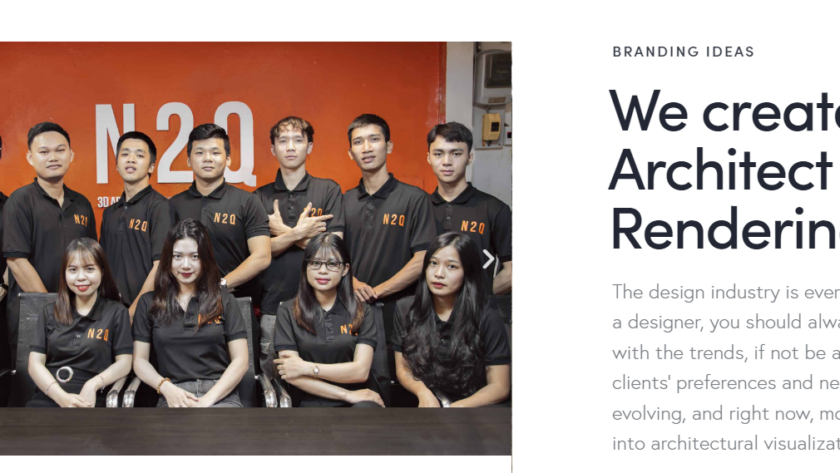 N2Q Studio brings trustworthy and affordable services for everyone. Customers can opt for a service from N2Q Studio at a price of only $200. What's more, the company doesn't require any deposit at the beginning of the project. The team will try their best to meet your demand, or you can ask for a refund if needed.
The flexibility is another remarkable advantage of N2Q Studio. The staff will be with you whenever you want to contact for support for no more than 5 minutes. You will even get two rounds of revision for free.
#2. Applet3D
The company was founded in 2012 in Philadelphia, the USA. Throughout a decade of activation, Applet3D has served thousands of customers with high-quality 3D rendering projects no matter what types of architecture the customers ask for. 
Applet3D team can fully take advantage of the prominent 3D rendering software and technologies to ensure that every single product will come to customers with the finest quality. Apart from 3D animation, Applet3D also offers customers simple 2D projects. The agency can ensure perfect punctuality regardless of changes you make during the processing stage. 
Once you choose Applet3D to complete your 3D architectural visualization, you will have 24/7 support from a project manager until you are satisfied with the final result.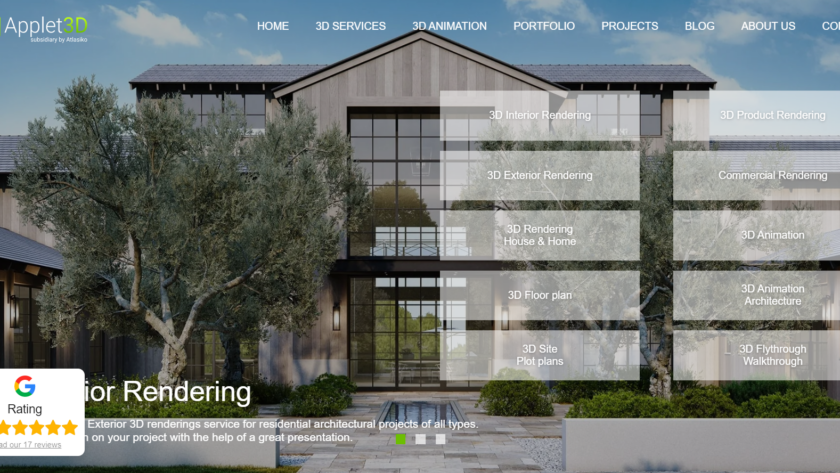 If you are finding 3D renderings for commercial or non-architectural products, Applet3D can also do the job for you. 
#3. ArchiCGI
The British company ArchiCGI has gained its reputation in the 3D architectural visualization industry not only in the UK but also all around the world. You can find services in ArchiCGI, such as drawings, virtual staging, 3D interior rendering, 3D virtual tours, 3D architectural animation, and 3D exterior rendering.
ArchiCGI products always stand out due to their great details, realism, and extraordinary on-time delivery. The company's policy declares that it will give you the 3D project for free if you don't get the final result by your deadline. 
In case you have modifications to the visualization, you have to announce it to the design team within 12 hours before the time you want the render finished. 24/7 and individual support is available for you from the beginning to the completion of the project.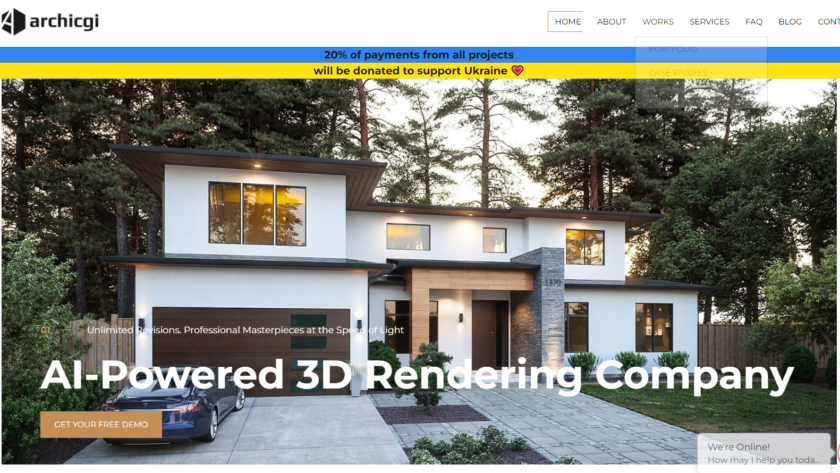 #4. Render3DQuick
Render3DQuick is a 3D architectural rendering company in Toronto, Canada. The firm covers 3D rendering categories, like exterior and interior renderings, aerial 3D visualization, 3D renderings for buildings and airports, landscape design, flythrough animation, walkthrough animation, or even 3D-printed models. 
The Virtual-reality architectural project is a considerable section of Render3DQuick chasing and developing. Also, it has managed to deliver impressive VR products to several clients.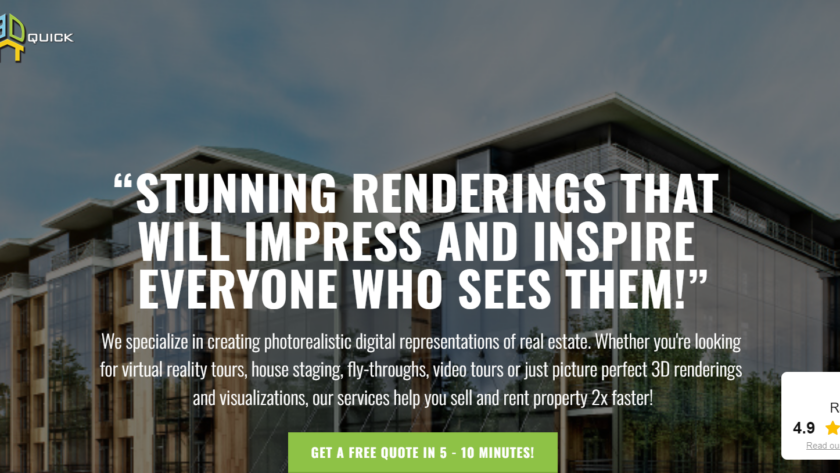 As coming from its name, the "Quick" in Render3DQuick is the company's affirmation that it will deliver the finished product to you in the blink of an eye. You can receive the quote for rendering within 10 minutes which is the fastest quote in the 3D rendering market. 
Quick processing doesn't come with disappointing results. On the contrary, the Render3DQuick design team always aims for your satisfaction at first done.
#5. Hayes Davidson
It's not a boast to say that the UK rendering company Hayes Davidson is one of the very first to contribute to the 3D architectural visualization services development. Alan Davidson established the company more than 30 years ago in London at a time when designers carried out architectural visualization by hand and ink.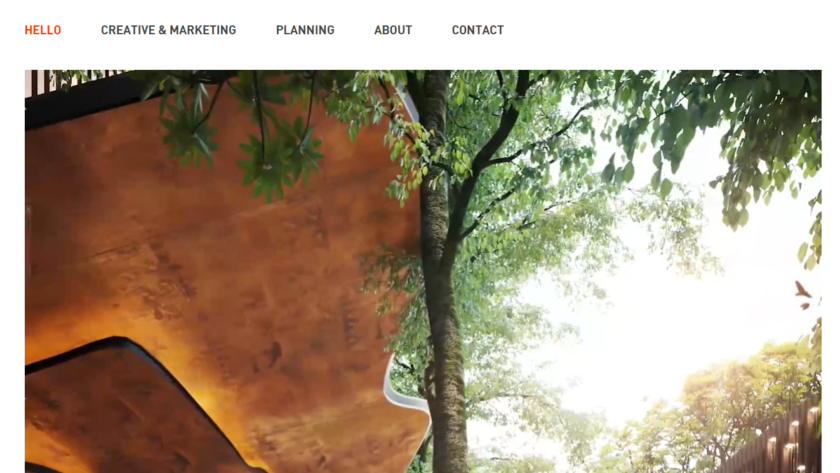 With such experience in the 3D rendering market, Hayes Davidson can fulfill additional services and 3D architectural designs, such as Verified views, Verified 360s, Illustrative images, Marketing images, Interactive VR, etc. The Hayes Davidson team is a combination of talented and well-recognized members guaranteeing you exquisite visualization projects. 
#6. RealSpace 3D
Another Canadian 3D architectural visualization company on the list is the 15-year-old RealSpace 3D. Although the firm originates in Canada, it serves clients around the world. RealSpace 3D takes part in anything related to 3D rendering, not only architectural projects. 
You can choose services from this agency, like Residential 3D rendering, Interior rendering, Architectural animation, Product rendering, VR for real estate, Commercial rendering, 3D floor plans, etc.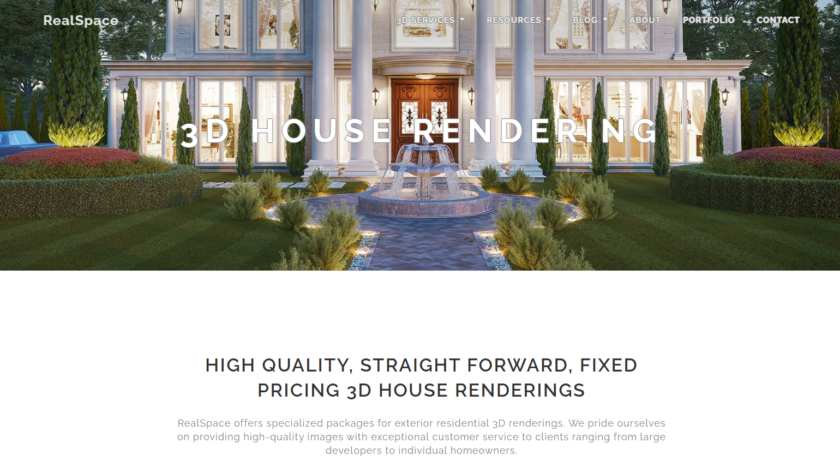 If it is your first time hiring a 3D visualization agent to generate images for your place, RealSpace 3D offers a pricing guide for you. The price will fluctuate due to the 3D rendering service types you choose. 
#7. VRender
Based in New York City, VRender's mission is to create outstanding 3D renderings for commercial or residences. The company has mastered cutting-edge 3D technology to provide customers with their desired visualizations and assuring the required quality, resolutions, budget, and time.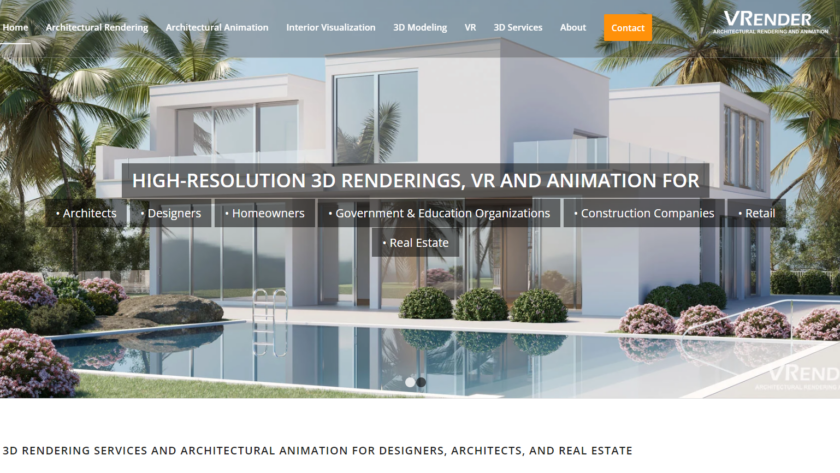 VRender's services include almost every architectural visualization type on the market, but it is most well-known for 3D architectural rendering, design, animation, Virtual tours for residents, and 3D interior visualization. 
Moreover, VRender is a rare company that offers services in 3D animation and illustration for medical purposes. Since medical visualization must attain the millimeter precision and the utmost realism for education and actual medical operation, VRender designers must be brilliant enough to accomplish such a job.
#8. Arch Visual Studio
Arch Visual Studio has been developing as a famous 3D visualization rendering company for 11 years in Texas, the USA. Therefore, this agency is confident in conquering every challenge from a customer's order. 
The firm has completed more than 1200 products in the 3D rendering section. 
You can look for Arch Visual Studio's services, like 3D interior and exterior rendering, 3D modeling, 3D product rendering, 3D architectural animation, 3D floor plan, 360 virtual tours, and so on.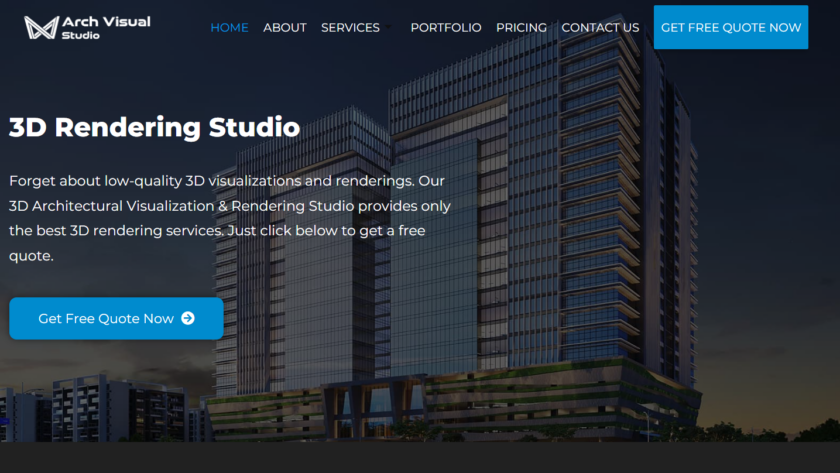 Pricing services are 100% public on the company's official website. Besides, you can calculate the estimated budget spent on your projects via a tool provided by Arch Visual Studio. Of course, the quote is of no charge for AVS clients.
#9. VizSource
VizSource is a 3D rendering firm located in California, the USA. With 6-year experience in 3D visualization, VizSource has delivered 3D-rendered products to more than 4000 customers globally. The company confidently states that all its designers have degrees in Interior Design or Architecture, so you don't have to worry about the product's quality.
VizSource provides customers with several timing options 
Source: screenshot from Therenderingcompany.com
This 3D visualization firm applies a creative method to handle customers' orders so that it can perfectly finish projects within different timelines.  Thanks to the overnight teams, the company needs less than 24 hours to give you a colored draft of your 3D rendering. If you don't have your product as timely as expected, VizSource assures you of a full refund.
VizSource has a 3-day package for clients who want their 3D rendering visualizations generated in 72 hours. Unlike the 24-hour option, the 3-day rendering service will come with a guarantee-refund for late delivery and undesired quality.
If you are not in a rush, you can opt for the discount service, which means you will have your 3D rendering project completed within five days. 
#10. Bottomline Studio
In 2013, Bottomline Studio set its first steps in the 3D rendering industry with its headquarters in New York, the USA. The firm now has offices in India and Newzealand to properly serve customers worldwide. This company has brought more than 1000 wonderful 3D visualizations to over 100 customers.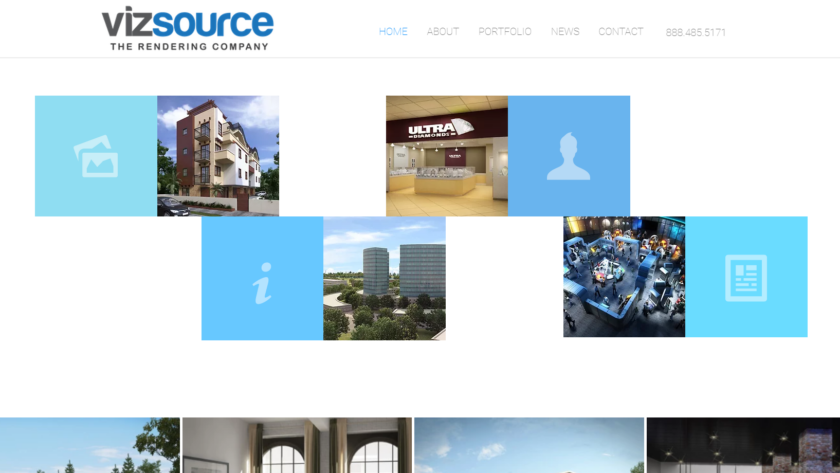 Bottomline Studio can offer services with nearly 50 excellent staff members, such as 3D exterior and interior rendering, 3D walkthrough animation, 360 VR, 3D product rendering, 3D floor plan, CAD drafting, etc. The company always considers 3D visualization as its biggest passion which will lead and promote them to deliver more superior products to clients.
How To Know If An Architectural Visualization Agency Is Trustable?
#1. Inspect Their Profile
The foremost element you should focus on when picking a 3D architectural visualization agency is finding out its years of activation, its designers' competence, the number of projects the firm has completed, and which famous brands have used its services. Sometimes, the various numbers of services the company is willing to offer can be a hint for talented designers.
These figures can be the most obvious evidence to distinguish an efficient company from others. Commonly, you can find these pieces of information on the agency's official website or fan page. 
#2. Check Customers' Reviews
If you don't totally rely on the 3D rendering company's self-introduction on its website, you can turn to the real customers' reviews. This is always an unbiased source of information whenever you plan to pay for any service. 
You can find customers' assessments on social network forums, groups, blogs, and fan pages. The customers have actual experience of using the company's services, so their opinions will be a trustworthy source for you. 
#3. Visit The Gallery
When you visit the architectural visualization company's website to look for some statistics, you should also observe how exquisite and aesthetic its website is. 3D designers are artists in the field of creating digital artworks, so their company's website should be artistic and impressive.
Furthermore, you should spend a few minutes checking the company's gallery. This section is where you get access to the agency's previous finished projects or its demo versions.
#4. Use Trial
Not many 3D architectural visualization companies offer their clients a trial. However, you should ask whether a trial is available or not. 
#5. Check For Their Guarantees
Architectural visualization is a business, and profit is the primary target. If the company is willing to pay you back when things don't go as expected or give you a long-time warranty, it means that the firm is betting its profit on the 3D rendering's quality. 
For this reason, it must strive its best to deliver distinguished products to you for the company's existence. The remarkable guarantees can be an affirmation of the agency's competence.
Bottom Lines
These agencies are renowned and efficient, so all you have to do is to consider which one can be appropriate for your budget, living area, language, and concept. The company which can fulfill all these sections can be the best architectural visualization company for you.