Architectural Rendering Prices – The Best Bang For Your Bucks
If you are looking for a high-standard 3D rendering agency to handle your works at reasonable architectural rendering prices, then N2Q Studio is one of the best options.
Here, we're housing some of the most dedicated and talented 3D artists with years of experiences which can help you in any architectural rendering project.
Instead of spending most of your time working on laborious designing and rendering tasks, you can now assign a team of experts to produce high-quality renderings. Save your time and budget with the help of N2Q Studio. Read on for more information on our pricing and services! 
Why You Should Trust N2Q Studio's Price Architectural Rendering Prices
With six years of experience in architectural rendering and having completed more than 600 projects from different clients, we are now one of the best 3D studios for you to outsource your different projects and designs.
Enjoy a good standard in the approaches and completions of any design jobs whenever you're working with our team.
Here, the combinations of skills and experiences will help clients achieve the best 3D renders without spending much effort on the actual tasks.
An average price of only $200 to $300 per high-quality render image is quite inexpensive when considering the global market, even for an outsourced company. Not to mention that the quality of works from N2Q Studio has been tested through many projects.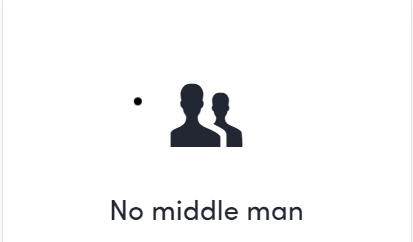 The total prices for your rendering projects from our studio will be much less expensive, as there is no middle man. To be more specific, instead of spending 40% extra on the service fee, you can now save your money and still have the work done with impressive quality.
In order to build your trust, we will provide the first test for absolutely free, so you can take a look at the high-quality designs and then continue our services.
It when without saying that a small deposit will be required to have the rendering works going. However, you can always choose to reclaim your money if you find the results not entirely satisfying.
The team always offers the starting price for all their projects so that clients can have better reference for their budgets. These will also eliminate the risk of being overcharged on any assigned jobs.
Why Our Prices Are The Best In The Market
While the prices enlisted on the N2Q website is quite reasonable, they are nowhere the cheapest. Yet, if you put into the efforts that the team is willing to make and the quality of work that we're providing, you will conclude that our prices are the best in the market.
You can have all the following services and benefits simply by paying fairly reasonably for each project.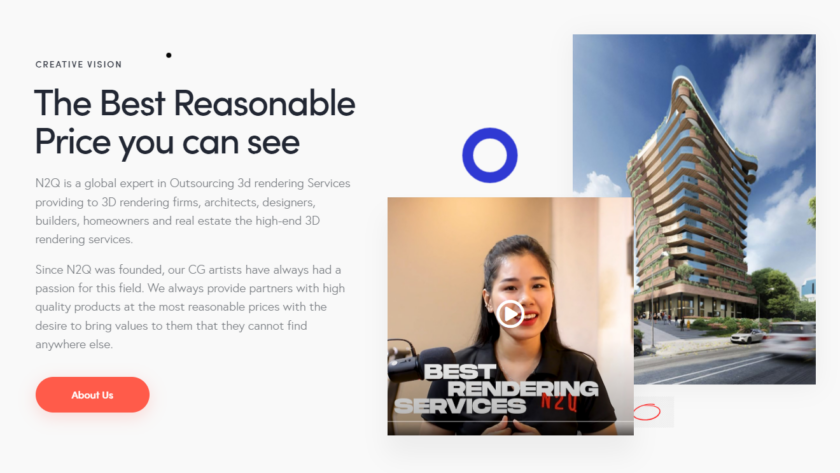 Handle All Your Rendering Works At Reasonable Prices
To start with, N2Q Studio can handle all your different architectural design works, from the 3D residential and landscape renderings to commercial renderings, 2D&3D floor plan renderings, and more.
All of these come at a reasonable price, and some can be surprisingly cheap, depending on your preferences, not to mention that the type of services that we're providing is unparallel to any others.
Work With The Passionate And Talented Team
With a team of experienced and talented designers, we will be able to provide the best architectural rendering works to clients. Instead of working on the given concepts, we can improve them with our unique and innovative creativities.
Thanks to that, clients can flexibly choose amongst new ideas and opt for the best architectural rendering images and animations.
For those interested, you can now work closely with our design team throughout the different stages of the projects. The team always ensures that you're happy with the quality of the final renderings.
Save Your Time On The Actual Labors
Of course, by outsourcing the jobs at reasonable architectural rendering prices to our team at N2Q Studio, you can save much of your time and effort from having to work on the actual labor.
Here, we will handle the difficult tasks of building realistic 3D environments and designs and then have them rendered and animated for you.
In the meantime, feel free to work on other tasks and projects, which will greatly improve your work efficiency.
Guaranteed Quality With Many Completed Projects
Over the course of 6 years, our team at N2Q Studio has completed more than 600 architectural renderings projects for single – multi families, townhouses, apartment buildings, and more.
With more than 52 trusted clients and growing in numbers, we are slowly but steadily building up our foundation of a great studio for companies to outsource their 3D jobs.
Interior Architectural Rendering Price
Our 3D designers love to express their inner artists and engage themselves in the many aesthetic design works. So, you can be completely confident in the team members always providing their best designs that are worth the money you pay for.
You can have your residential interior design renderings starting at $200 for a home at a maximum of 800 sq. ft. Any commercial hotel interiors for venues of up to 1500 sq. ft will start at $350. The prices can vary and scale up depending on your certain preferences.
Exterior Architectural Rendering Price
The exterior architectural rendering prices from N2Q Studio are also quite flexible, depending on the projects. Generally speaking, we often charge our exterior cheaper than those interior designs since our designers do not have to work on the aesthetic details.
In case you wish to add more layers to the renderings, like greeneries, landscapes, and other environmental details, note that the prices will go up based on the number of new elements and the scale of the projects.
For starters, a regular home exterior project with homes of 4,000 sq. ft or less will start only at $200 per rendering. Meanwhile, larger residential buildings of up to 12,000 sq. ft will start at $300 or more.
The commercial mix-use exterior for areas of 25,000 sq. ft will start at $500. If you want the Aerial Birds Eye View Exterior, the prices will start at $200 for homes of up to 40,0000 sq. ft or less.
Factors Affecting Architectural Rendering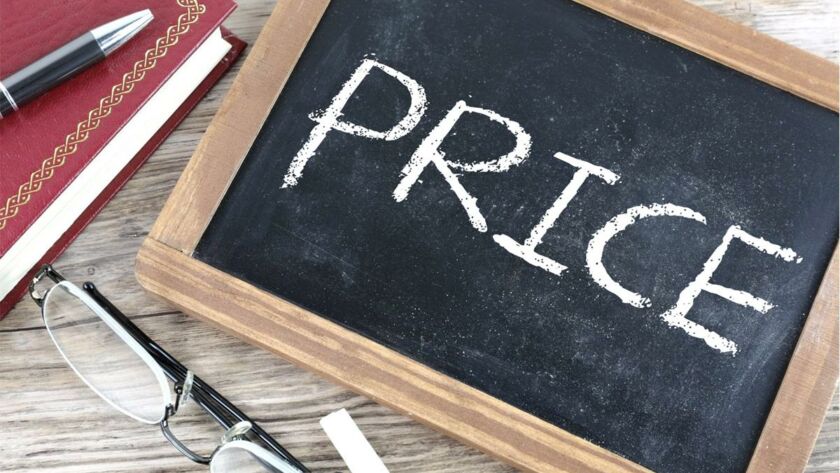 Many factors affect the architectural rendering jobs, mostly with the rendering prices and time for project completions.
First of all, as mentioned, the types of 3D renderings and the number of views will majorly affect the overall prices. You can see from the list the starting prices for our proposed ones for interior and exterior renders.
The number of rooms in your interior designs and the complexity of the exteriors are the next things to consider when determining the prices and completion time for the projects.
Some companies will require more detailed and sophisticated works for their campaigns, while others might be less demanding of their projects. Depending on these different requirements, our team at N2Q can adjust the prices and the completion time accordingly.
For clients who don't have their ideas and details renders, we can support them with the ideations and actual rendering works, but it will definitely take more time and effort. So, if you want quick labor, then you might want to have everything settled before outsourcing the designs to our studio.
Suppose you only need standard photorealistic renderings, then the prices will not fluctuate much from the standard starting prices on our website.
Note that you will need to pay extras if 3D animations and virtual tours are required. In general, it will take quite a lot more time and effort to create these digital materials since our designers need to work on hundreds of frames instead of one.
Clients can also request us to prioritize their certain projects with a certain amount of extra fee. Subsequently, we will have more members working on the job and provide instant support whenever you need to consult the team.
Propose To Send Customers A Free Quote Architectural Rendering In 2 Hours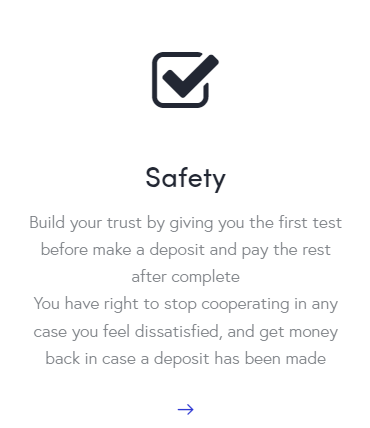 We are giving all clients a free quote render in just 2 hours before you make any deposits. If you're happy with the designs, you can continue working with our experts following the course of the project.
Of course, a small deposit will be required to have the job going, and the final payment will be made only when the project is finished, and you're happy with the quality of the work. If you do not, there is always the option to get back the money.
Following the rendering projects' steps, we will work closely with the client and provide them with instant customer support whenever needed.
Step 1: Collect Information
Once you have agreed on the terms and initial deposits, we will need all the available project information to handle the 3D rendering properly. These consist of drawings, sketches, descriptions, design specifications, accurate measurements, materials choices, available 3D models, and so on.
The more you can provide, the less time-consuming the job would be, and the better your photorealistic renderings could get.
Besides, it would be best if you could provide all the necessary details and materials so that our experts at N2Q Studio can work on the 3D environments from the barebone measurements easier.
You can supervise the projects and receive updates on the designs at any stage to make sure that things are going well.
Step 2: White Render – Confirm Light
With all the data and guidelines being collected, our 3D modelers and expert designers can begin to work on building your 3D houses, residential buildings, commercial complexes, and other 3D constructions with only white renders.
Specifically, the project opens for multiple changes, including rendering materials, lighting, design and construction revisions, applicable modifications, and more. Clients will receive their white renders as soon as possible, so immediate changes can be made to improve the designs.
Our team will continue to work on fixing the imperfections and improving the 3D renders according to your suggestions and demands.
Step 3: Draft Render
The pre-final render with applied textures, materials, lighting, and other elements will be proposed after all the changes on the white renders are applied. In particular, clients can receive up to 3 revisions of their 3D renders, each with improved elements from the previous comments and suggestions.
In order to make things more comfortable, we always offer extra revisions if you are willing to pay extra rendering prices for the work. Have our team at N2Q continue to work until you feel satisfied with the draft render.
Step 4: Revision Round
In addition, the revision round is where the final details and 3D elements are added to your rendering. These consist of streets, sidewalks, people, landscapes, cars, sky, and others on your exterior renderings, together with detailed furniture and aesthetic decors on your interiors.
You can still request new elements added to the designs, and the work continues to rotate until you are most satisfied with the quality and comprehensiveness of the renderings.
Conclusion
For architectural rendering projects that are looking for a quick and hassle-free option for outsourcing their 3D labors, then N2Q is certainly a great option.
With years of experience from previous designs and a team of talented 3D modelers and artists, we can provide the high-quality rendering works that you want at reasonable architectural rendering prices.