Architectural 3D Rendering Company – Top 10 Updated 2022
With technology development, hiring an architectural 3D rendering company is trending now, streamlining their project to a great extent. Finding the appropriate company may help you transform a project's image to the point where your target audience views it as better than reality itself. 
In this article, we'll take you through some of the top stars in the rendering industry. Let's get started. 
Top 10 Architectural 3d Rendering Company
1. N2Q Studio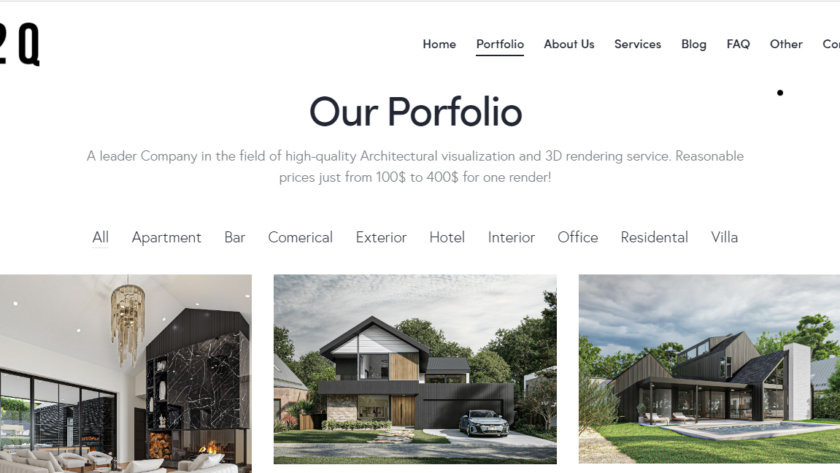 The first spot on our list should go to N2Q Studio, one of the greatest and most reputable companies for 3D visualization in Vietnam. 
With six years of experience working in the field, N2Q Studio has developed a level of quality in carrying out work on over 600 projects of all types. They all satisfy you whether it's architectural 3D modeling, floor plan 3D renderings, 3D interior design renderings, or 3D landscape renderings.
What stands out the most, however, is their ability to turn your ideas into practice with top-notch quality and affordable costs. Compared to working with a local outsourcing firm, working with N2Q can save up to 40% of the cost, as you don't need to work through any middle man. 
If you want an outstanding rendering experience with a limited budget, N2Q Studio is undoubtedly the best alternative due to its extensive service offerings, high quality, and cost-effectiveness.
2. Easy Render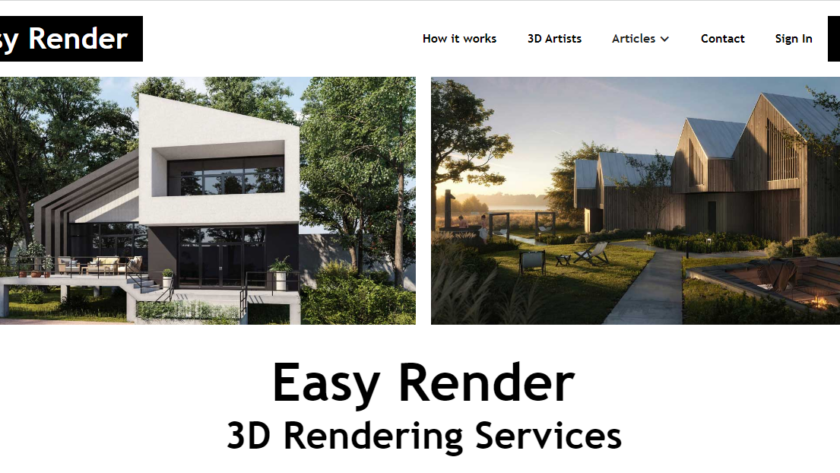 Unlike the other architectural visualization studios on this list, Easy Render stands out as a platform that connects customers, including architects, designers, businesses, real estate agents, and anyone else who needs high-quality renders to visualize their project, with talented 3D artists from around the world. 
With an unrivaled service that uses hundreds of 3D artists from over 139 countries, Easy Render offers visual collaboration tools available online to guarantee correct input, resulting in quicker delivery times.
Clients may choose the ideal 3D artist to meet their needs thanks to the wide range of prices, tastes, and skill levels. Additionally, the platform makes the cooperation, picture transfer, and payroll system between clients and artists simpler. It also enables you to collaborate with experts at a cost you are comfortable with, on an agreed-upon timeline, and risk-free. 
Customers who prefer to reach the best 3D artists on a highly secure platform will appreciate what Easy Render offers.
3. Studio 57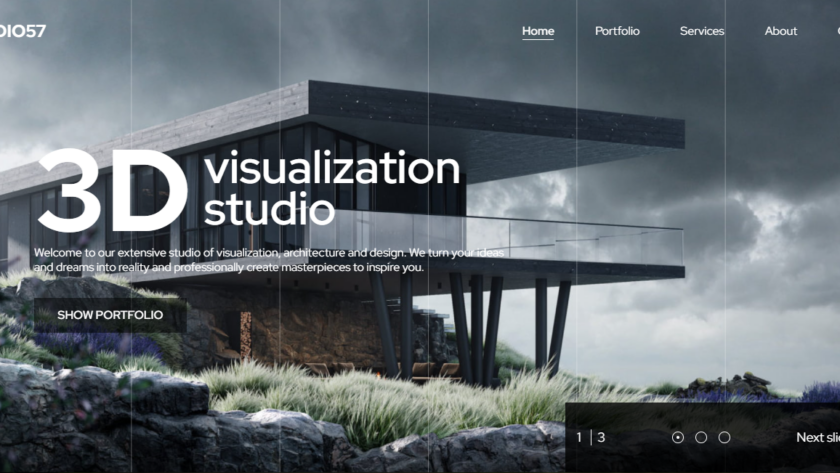 Founded in Minsk in 2016, Studio57 is a major visualization, architectural, and design studio with around 197 professional creators.
Since its foundation, the business has expanded, opening offices in New York and London, operating successfully, and developing projects worldwide. It provides dedicated and diligent work in its pursuit of providing distinctive, stylish, and cutting-edge settings that invigorate homes and workplaces.
What sets them apart is their reasonable pricing and efficient, individualized customer service in the competition. Moreover, each of their staff members is an expert in their industry and possesses a strong sense of taste, knowledge, and a great attention to detail.
The range of services offered by Studio57 includes photorealistic interior and architectural visualization, 3D modeling, virtual tours in the form of 360-degree panoramas, architectural animation, lighting scenarios, and more.
Whether you want to build your dream house or need assistance in conceptualizing a complex commercial space, Studio57 is the ideal partner for your next project.
4. Luxigon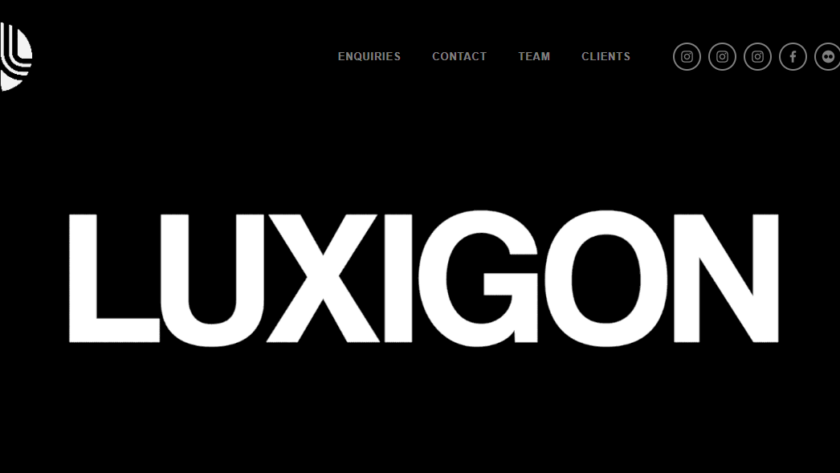 Luxigon is an outspoken but assured multinational collective of artists based in Paris, Los Angeles, and Milan. The company established itself as a reliable platform for clients in the early days of the field, and it maintained its reputation as a bona fide and professional rendering service. 
Currently, the firm offers four primary services: architectural animation, interior rendering, exterior rendering, and 3D floor plans.
Suppose you want to find a business that can capture 3D renderings, overlay animation, and strong and attractive 360-degree interactive demonstrations. In that case, Luxigon is definitely worth the choice, as they immerse viewers in the architectural visualization's environment.
5. Brick Visual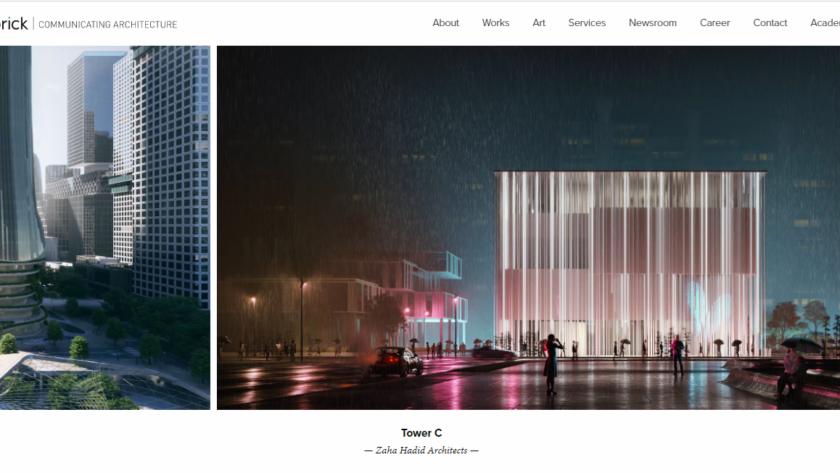 If you're seeking high-end architectural visualizations, Brick Visual is a great place to start. They have established a reputation as the top 3D rendering business and have worked with several well-known architecture firms worldwide.
Specifically, the firm employs a "green box" studio where they produce lifelike portraits, along with realistic characters to give the impression that everything is truly real.
In addition to rendering, Brick Visual also offers architectural planning, drone photography, virtual reality, and augmented reality technologies that turn each visualization into an experience. This is accomplished by offering cutting-edge 3D rendering services without confining oneself to a single aesthetic. 
Although the organization is quite confident in its abilities, its design team will go above and above to grant clients their desired products. 
6. V Render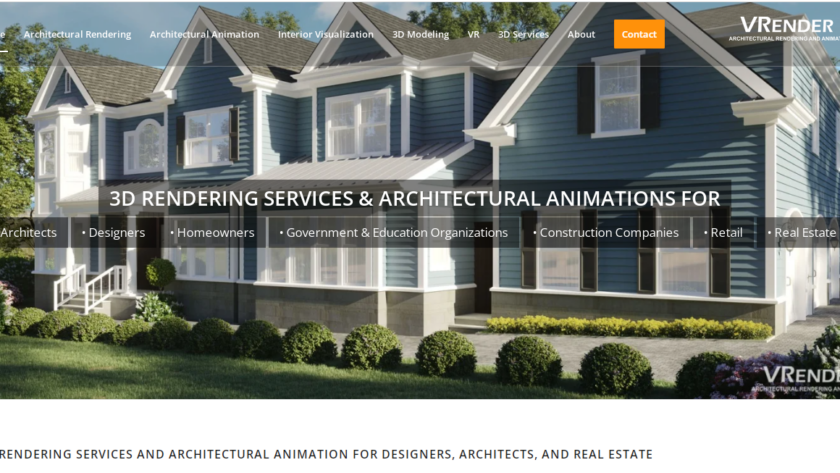 One more top rendering and visualization service you should consider is the New-York-based company – VRender. They specialize in real estate rendering projects and offer 3D rendering services for photorealistic interiors and interactive animations. 
Vrender delivers exterior renderings of decent quality and is likely more budget-conscious. Projects in their portfolio range in size from small subdivisions to single-family houses. However, single-family dwellings and low-rise structures appear to be their area of expertise.
Yet, all of VRender's designers are excellent artists who collaborate closely with client feedback to iterate rendered design structures, concepts, or revisions until a pleasing result is achieved. Now, the studio offers its services to builders, retailers, real estate agents, government and educational institutions, architects, designers, and private citizens.
Aside from photorealistic animation and 3D objects, VRender also offers virtual reality, 3D tours, and excursions from any angle. Just give them the details of your project and a 3D model, then sit back and watch them work their magic.
7. Dbox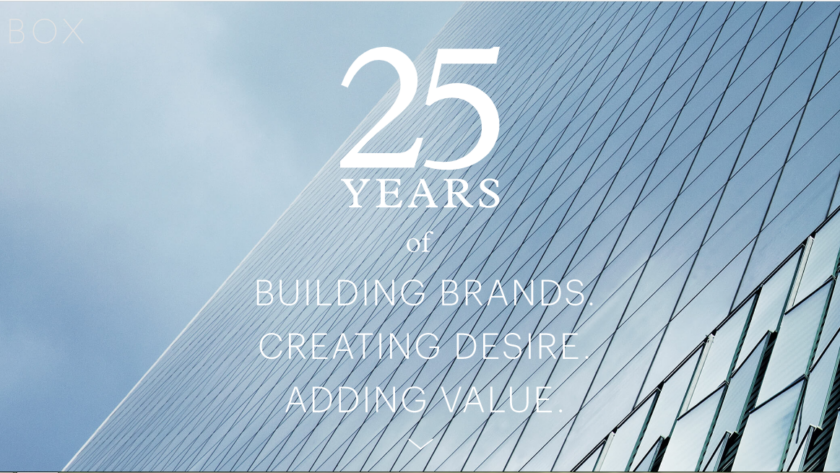 Dbox is another architectural visualization maestro to look up to. The company entered the game in the mid-1990s when the CGI industry began interacting with architecture.
Over the two decades, the small studio has evolved into a creative branding agency that collaborates with Zaha Hadid Architects and Foster + Partners. The company currently operates three offices in the US and 1 in the UK. Their projects typically range in size from substantial multi-tower structures to large developments. However, they seem to focus on business clientele and highrise skyscrapers.
This company produces top-tier exterior renderings. Their portfolio includes award-winning projects by some of the world's most renowned architects. With excellent samples that range from natural daylight to challenging night projections, Dbox Inc. is well-versed in conventional external lighting strategies.
Examining the lighting is one of the finest ways to assess interior rendering quality, and Dbox proves that. They deliver vibrant, adaptable photos with excellent lighting and display a variety of approaches. If quality is the most important criterion in your decision, this is a strong competitor.
8. Real Space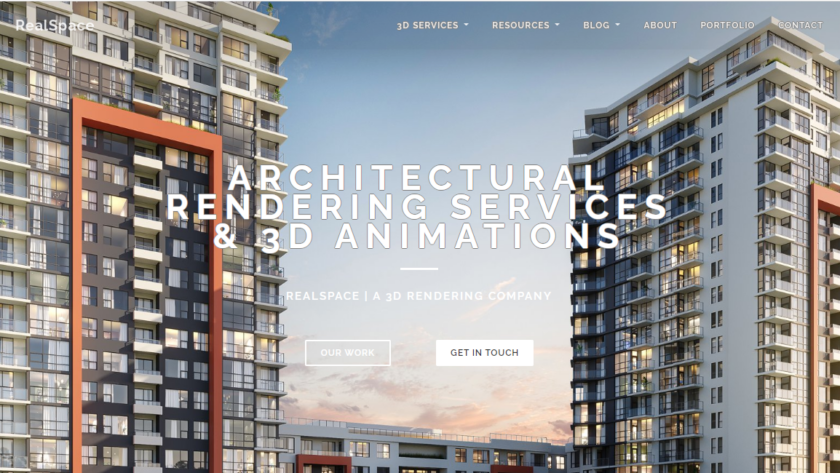 Here comes a Canadian firm – RealSpace, which specializes in rendering architectural designs. They have a talented group of experts who create beautiful 3D renders and animations.
For cutting-edge presentations for architectural, marketing, development, or regulatory boards, RealSpace is the perfect solution. They have effectively served clients for more than 13 years, with clients ranging from homes to Fortune 500 organizations. RealSpace provides virtual reality, 3D floor plans, and 3D animations in addition to architectural rendering.
Projects in their portfolio vary from single-family houses to tall buildings. However, townhouses and low-rise structures appear to be their fortes. The firm has excellent examples of renderings using normal external lighting methods, from renderings done in bright sunlight to gloomy renderings done at dusk.
RealSpace is the ideal ally for your project, whether you require a single image or a full 3D animation.
9. Archi CGI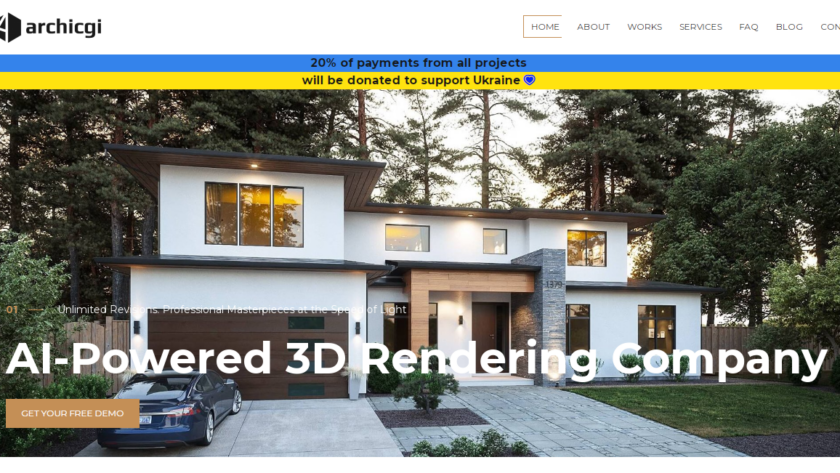 ArchiCGI, based in Lanarkshire, Scotland, is widely regarded as the premier rendering firm in the United Kingdom 3D rendering market. The studio specializes in online architectural visualization and delivers animation, interior and exterior rendering services, and virtual 3D tours.
They employ intelligent 3D rendering to maintain quality control. The renders in the portfolio stand out for their superb realism and imaginative concepts.
The rendering firm offers limitless revisions and a 100% delivery guarantee or your money back since they are sure they can complete your job on schedule and to your exact specifications. To better understand what is included with each service, browse through Archicgi's stunning portfolio or ask for a price guide with sample case studies.
10. The Boundary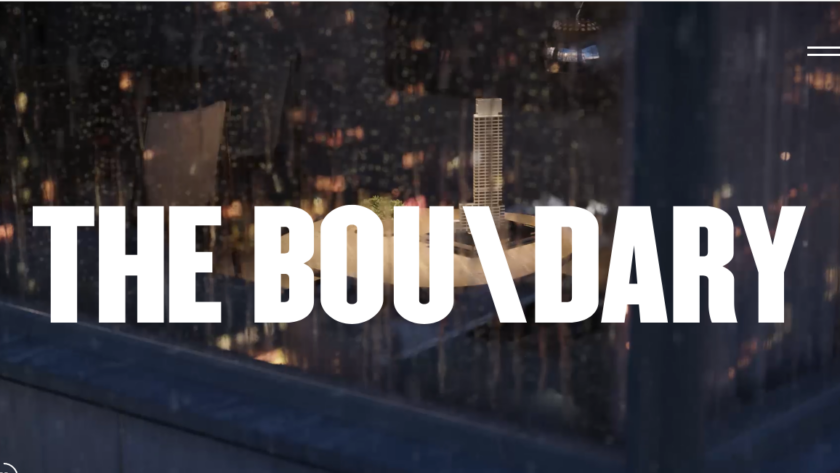 When mentioning The Boundary, we think of a London-based provider of architectural visualization services with the goal of giving consumers the greatest possible architectural viewing experience.
Over a seven-year period, the team created over a thousand pictures, animations, and VR tours for the Pritzker laureates' offices, including Tadao Ando, Richard Rogers, The Duke, & de Meuron, Richard Meyer, Renzo Piano, Alvar Siza, and Peter Zumthor.
As innovators of digital technology for graphic representation of the built environment, The Boundary remains ahead of things. It even provides creative and ambitious customers with game-changing products that constantly set new benchmarks in the industry.
The bureau runs a blog where it discusses its most recent projects and offers free video tutorials on visualization. Their posts also demonstrate best practices for streamlining the workflow with an electronic portfolio of its work in place of a traditional website.
How To Choose The Best Architectural 3d Rendering Company?
Now you know the top rendering services on the market, but how to choose the right consultant for your project? Here are things to look for when choosing one:
Look at Testimonials
If you have a shortlist of potential 3D rendering firms that you like, one of the best ways to determine which business is appropriate for your project is to read reviews and client testimonials.
To learn what their clients are saying about their work, visit websites like LinkedIn and Clutch.co. This will also give you a sense of how they work and their aesthetic sensibility when providing 3D rendering services.
Check Portfolio
The reviews from outside sources have persuaded you that the company is reliable. So it's time to look at the architectural rendering company's portfolio. A business with a solid reputation for offering 3D rendering services will have a website portfolio showcasing its work.
3D visualization companies provide a wide range of CGI kinds. Therefore, you ought to check the agency's online gallery before obtaining 3D rendering services to see whether they have a broad range of interior design scope they can employ in your render.
It's a positive sign when a CG visualization studio's website features a plethora of high-quality renderings of various types from virtual tours, exterior and interior, 3D floor plans, and animations.
Cost-effectiveness
Be prepared to pay extra costs if you opt for a big, reputable studio. Pricey 3D rendering projects do not necessarily ensure a satisfactory result, though. An up-and-coming agency might charge you less yet dedicate themselves more to your project. There isn't a fixed price for these services, but it depends on the qualities you expect from the agency.
Revise Guarantees and Revision Policy
Before choosing a service, it is crucial to have a look at their policy. Sometimes, the versions that the agency makes might not please you. Thus, the studio you pick for your 3D renders must accommodate changes whenever you wish to. Make sure you are aware of the agency's modification policy. Small adjustments are usually covered in the initial budget. Yet you should clarify these practices prior to dealing with a 3D rendering company.
Professional studios also encourage their clients to sign non-disclosure agreements (NDAs) to secure critical project data and avoid information leaking. Therefore, you should also consider this problem. 
Conclusion
The 10 candidates above have established a solid international name and come highly recommended in the sector.
To choose the best architectural 3D rendering company, you should take the time to pick a design firm that suits your vision, attitude, and sensibility because each architectural visualization agency has a different style.
Hopefully, the above information will help you make a wise choice for your project. Good luck!