Best 3D Interior Visualization Services For Businesses
3D visualization has devoted its application in multiple industries to adapt to the high demand for project demonstration. With the advantages of accelerating progress through intuitive images, this revolutionized technology provides businesses with a powerful communication approach.
As an industry with rigorous requirements for high-quality images, interior design witnesses more of the integration of 3D visualization into the overall process. However, filtering prestigious 3D interior visualization services confuses most businesses due to the trustworthiness of portfolios and collaborating processes.
Choosing a quality outsourcing rendering service will ensure achieving the project's targets in controling budget and design style. For more information on the 3D visualization role in interior designing, continue reading this blog.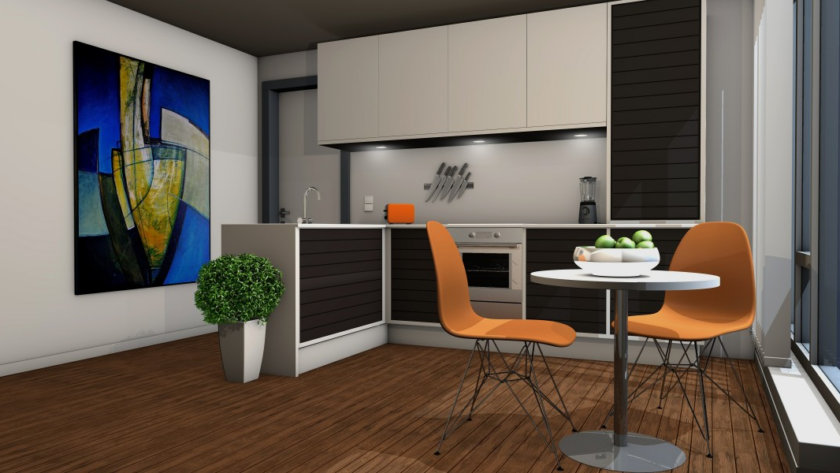 What Is 3D Interior Visualization?
3D interior visualization contributes to actualizing technical design ideas into intuitive demonstrations for streamlining the project's workflow. Besides, the application in enhancing impressive presentations and interior design portfolios grabs the attention of multiple clients.
Clients can modify unexpected errors before real-world implementation through an overall view illustrating the layout and design style. Additionally, acquiring a high-quality 3D image can be advantageous in marketing activities. Specifically, businesses are offered an effective approach to creating interactive content for websites and social media.
According to the impression of architects and interior design artists, this technology aids them in visualizing the draft 2D design intuitively. Observing the 3D models allows interior designers to control the impeccable proportions for no mistakes when implementing.
3D interior visualization covers multiple elements to ensure relevancy in contrast, brightness, and textures between interior objects. A reasonable combination of these artifical factors will guarantee a realistic look for accurate imagination. 
Apart from turning technical information into graphics, this technology breathes a new life into the emotional feeling of the original models. Artists can utilize small detailed objects when attempting to create an experience resembling real-time lifestyles. For example, a cup of coffee or an appealing breakfast should be in the layout to simulate the feeling once waking up in the morning.
Implementing an interior visualization project requires collaboration with professionals. Due to meticulous control of element numbers and accurate proportion calculation, it is recommended to choose a prestigious service for optimized results.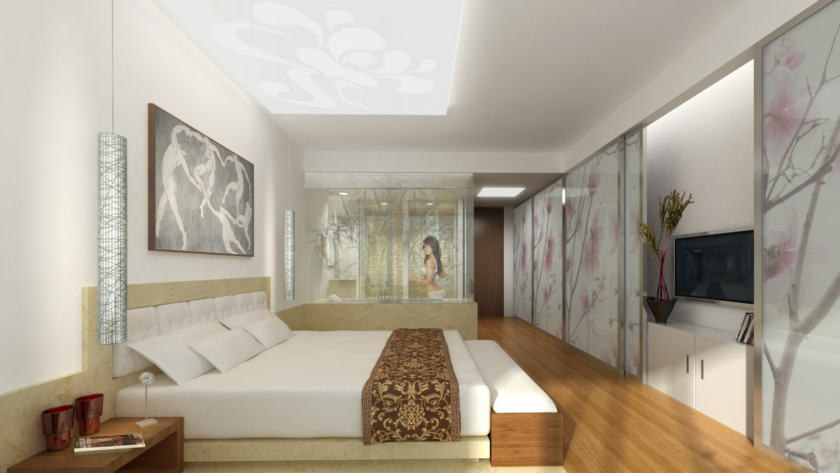 Benefits of 3D Interior Visualization
Due to the increased demand for evaluating the interior project's quality, 3D visualization technology has evolved with multiple practical benefits. As integrated into visualizing the design for marketing and presentation purposes, this technology has gained the trust of various clients.
3D interior visualization earns its spot in finalizing the project when accelerating the designing process. The following compelling advantages will convince your interior businesses to hire a quality service.
Saving Time
Instead of utilizing mood boards, clients can save plenty of time conveying the interior design idea through 3D rendering services. By reducing the risk of miscalculation, the 3D rendered images can support immediate modification before implementation.
To acquire an appropriate proffesional rendering service, clients should focus on the quality of the completed project's portfolio. With the criteria of the working process, completing time, design style, and other elements, you can filter a satisfying outsourcing service.
Explaining The Vision For Partners
Illustrating the interior through cad drawing and mood boards partially restricts viewers from imagining the whole design. By simulating the real-life constructions in three dimensions, 3D rendered images can convey the vision intuitively to partners. Apart from basic drawing tools for creating the raw models, 3D rendering software also allows setting camera angles and light schemes.
Illustrating The Concepts And Options
As a cost-effective solution, 3D interior visualization facilitates diverse concepts and design style options for clients. Through various combinations, clients can compare the advantages and disadvantages to decide the most appropriate choice. Additionally, as a digital form, the rendered image can be distributed to multiple relative departments to streamline the process.    
Easy Modification
The 3D rendered images provide a comprehensive reference to control relevant resources. Regarding human resources, design styles, and clients' feedback, the rendering team can adjust the demo to adapt to all requirements before constructing. 
Building Brand Awareness
3D visualization services will mark your interior business as a professional brand with impressive portfolios. Through interactive 3D image content, businesses possess an effective approach to conveying brand messages to customers. Besides, you can apply 3D visualization technology in renewing old projects' documents to impress more viewers.        
Increasing Sales Revenue
High-performance marketing strategies result in opportunities of gaining more conversions. The satisfying experience of viewing the designs without direct examination can trigger the purchasing desire of customers. Thus, generating a competitive advantage for businesses in increasing the sales revenue.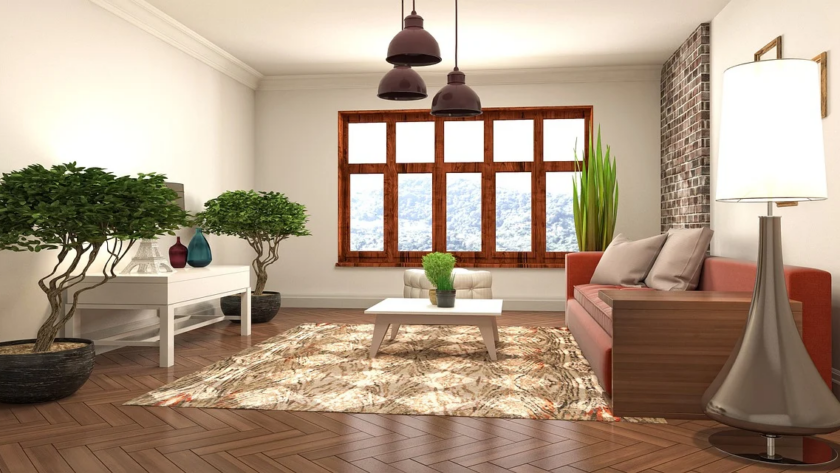 3D Interior Visualization Process
An effective 3D visualization process requires understandable collaboration and specialized rendering services company's ability. Stemmed from the comprehensive conversation with clients, the rendering team will conduct a meticulous plan to visualize the 3D models. The following instruction will guide you to a complete process of a professional 3D interior visualization service.
Understand The Clients' Brief
The first step to initializing the whole process is appointing a meeting to communicate basic information. Indeed, setting up the foundation according to clients' problems and solutions can accelerate the processes without several reworking times. Two parties can conduct the meeting through popular remote-working software such as Skype, Zoom, Microsoft Teams, etc.  
The discussion will focus on these sections:
The relative background information of the project         

Problems prevent clients from actualizing the ideas

The suggested ideas of the project's implementing intention

The expected time and budget for finalizing the project
Once discussing important issues for completing the demo contract, the 3D visualization team will follow the client's requirements to plan the strategy. The final contract details will be delivered through emails from 12 to 24 hours.
Exchanging Necessary Files
Before commencing the project, the service company will enquire clients to submit relevant files. The submission will provide the interior 2D sketch and references for suggesting the strategies.
Lists of submitted files to support imagining the clients' ideas:
DWG files

: containing vector graphics of sketched interior

Technical information list

References for design styles and scale proportion

Real-time photos featuring the current conditions
However, preparing all the above files does not always adapt to the requirements. Depending on the documents demonstrating the project's situation, the visualization service can consult an appropriate process for clients. 
Creating 3D Models And Sights
Once the client approves the demo layout, the 3D visualization team will implement draft models and the surrounding view. This process of turning 2D into 3D elements can indicate the perspectives and structures of the construction. Additionally, 3D artists can visualize technical information of models' boundaries regarding topological and geometric characteristics.
However, this stage will not reveal a precise view of objects' materials and textures. Instead of providing these factors, 3D artists will focus on space harmony between interior elements. 
Besides, the visualization services should not inform clients about these 3D models to reduce rework after layout approval. If feedback is received, the design team should communicate with clients to identify the expected perspective. 
Practically, some services integrate interactive features into websites to satisfy the viewing experience of clients. Common elements applied in demonstrating the demo project are:
URL integration

Lightboxes

Voice messages

Comment boxes

Video
Polishing Models Through Textures And Materials
After identifying the structure and layout arrangement, the process will focus on details to simulate the real-world furniture. Instead of working on white-empty objects, 3D artists will polish them with colors, materials, and textures.
In collaborating with the artificial light system, the visualization team can audit all feasible options for the most appropriate choices. Specifically, 3D artists will examine the interaction between the environment, atmosphere, and interior materials to ensure accurate visualization. The services team should ask clients to provide dedicated feedback to meet the client's requirements.
Final Submission
After the complex process of rendering and post-production, the visualization service will provide clients with high-quality interior images. The rendering time will be different depending on the project category and the number of interior elements.
Besides showing clients' final results, the visualization team can describe the project's evolution through particular video types. Clients will understand the process through before-after videos or time-lapses with meticulous modification at each stage.
Additionally, this demonstrating type can highlight commercial projects' core features for marketing purposes to gain investors' attention. However, showing the project as a presentation video should be conducted when finalizing all the details. A slight chance in materials, textures, and lighting can risk multiple reworks with a higher budget.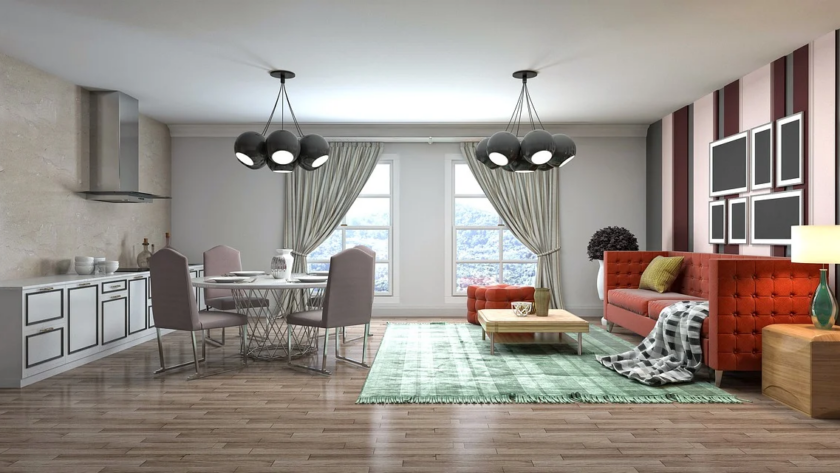 Tools (Software) Used When Doing 3D Interior Visualization?
As integrated into multiple industries for different purposes, 3D visualization software has proved to be a functional tool to demonstrate the project. Specifically, you can transform the layout into stimulated construction by interacting with offered elements to create 3D models. 
When choosing an appropriate software that meets use demand, you should focus on features, usability, pricing plan, and support policy. According to these criteria, we summarize the best 3D visualization software list in the following section.
Blender
Blender offers a free method to implement the whole 3D visualization process. As a specialized software for professionals and amateurs, 3D artists can get accustomed to it quickly.
By utilizing plug-ins, custom codes, and add-ons, you are facilitated to conduct the project, from drafting the 3D models to rendering the final image. However, this software might not satisfy all the users when prioritizing the rendering speed and real-time updates. 
SketchUp Pro
This software provides four price options with different ranges of features:
Free plan: allows limited features for website only

Shop plan: provides more features for website only ($119 per year)

Pro plan: adapt to both websites and desktops with advanced features ($299 per year)

Studio plan: Professional plan for websites and desktops ($699 per year)
Through a 3D space for easy observing the objects, Sketchup Pro aids the visualization team in creating furniture and surrounding views. Besides, you need to spend on bonus add-ons and additional plugins for more advanced features.
Autodesk
Autodesk provides appropriate tools when in demand to implement large-scale complex projects. Based on common environment data and simulated tools, this software allows for creating high-quality rendered images. Besides, the collaboration between relevant teams is supported to gain the expected results.
Autodesk provides three different pricing plans depending on the registering time. Specifically, it will cost businesses $390 per month and $3115 per year. Additionally, the three-year license requires $8410 to acquire.
Revit
Developed by the same team behind Autodesk, Revit has proved to be a professional software with multiple core features. Due to automating the working process through functional tools, this software results in better efficiency in reaching desired goals.
Surpassing other software in covering multiple niches, Revit secures the trust of various rendering services when conducting the entire process. However, as an on-premises solution, you must prepare adaptable RAM and storage to ensure proper operation. Besides, window users will be allowed more easy interaction than mac users when utilizing this software.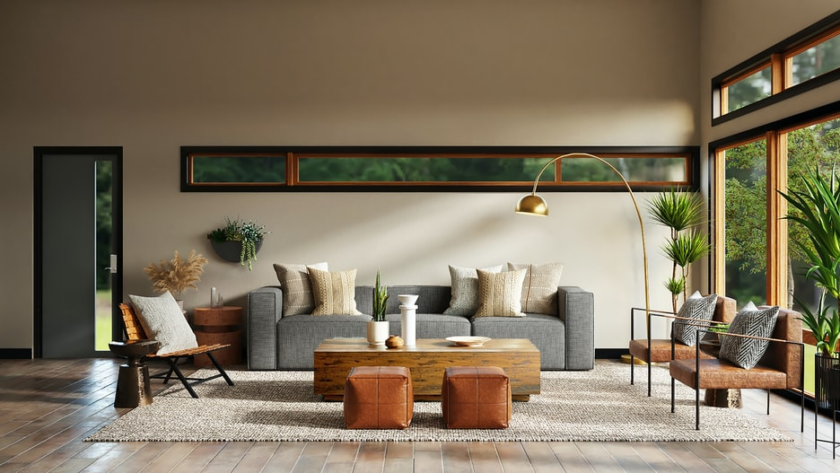 Price 3D Interior Visualization
The interior visualization project's price range depends on multiple factors regarding the deadline and the number of requirements. Indeed, a complicated project is estimated at a high price due to various interior elements and a long time to finish.
Not only being integrated into large-scale projects, but the 3D interior visualization also adapts to average customers at a low price. Commonly, the more features ordered by clients will come with less charge. A complete package with a full engagement level of different services will cost around $3500 to $8500.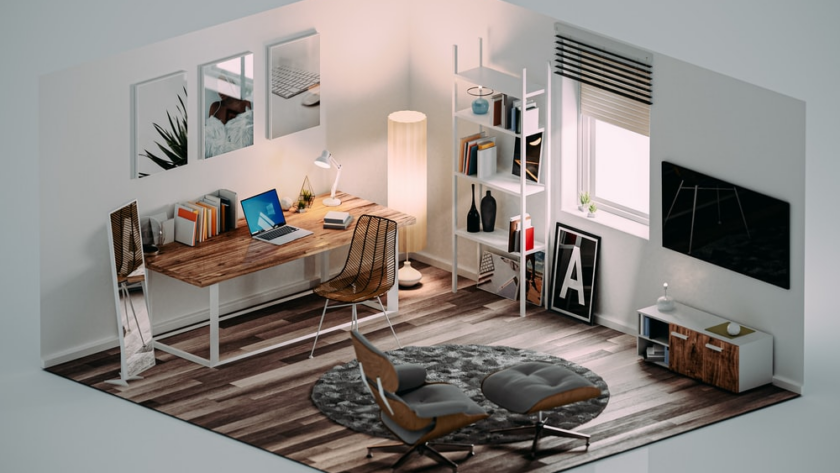 Why Choose N2Q Studio As An 3D Interior Visualization Services Company?
The 6-year experience through 300 projects has marked N2Q Studio as one of the most quality 3D interior visualization services. Due to updating the working process based on the client's feedback, we are confident in providing the best services that satisfy all tough requirements. Our services will be integrated into your entire process with a reasonable average price starting from $500.
When collaborating with us, the information and relevant files will be exchanged between two parties without the engagement of other outsourcing services. Thus, reducing 40% of your implementation budget.
Before conducting the contract, we will offer a demo to evaluate our professionalism. Clients will transfer the deposit once feeling satisfied and pay the rest when the project is completed. If you identify any problems throughout the process, you can provide feedback for adjustment or terminating the contract.
By focusing on customers' experience as the most important point, N2Q Studio offers the best solutions for your interior projects. If you wonder about a prestigious rendering service for particular purposes, do not hesitate to contact us for detailed information.